Resurrection Review: The Dead Are Kind Of Dull In ABC's New Drama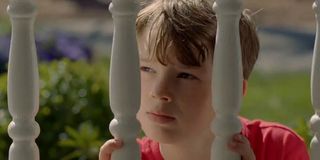 ABC has been busy promoting its brand new series, Resurrection, for weeks now, including prominent previews during the Oscars' commercial breaks. Advertisements for the series have been promising the unveiling of an unbelievable narrative about a few dead people from a small community returning to life. Typically bringing back people from the dead incites visions of zombies or other horror tropes, but through its first few episodes ABC's brand new drama favors soapy and uplifting moments, with an undercurrent of mystery making itself more apparent by the end of the second episode.
Before we get to small town America, we head to China, where a small boy awakens in a sea of green plants in a rural area. The boy, Jacob (Landon Gimenez), is wet and weary, and ultimately seems confused about his circumstances. He eventually gets carted back to the U.S. where he meets an immigration and customs officer named J. Martin Bellamy (Omar Epps). The latter is intent on returning the boy to his hometown in Missouri, but when they get there, a can of worms is opened up that leaves confusion and discomfort in its wake.
Yet, so far, the series has set itself up as a show about how people deal with grief and the return of hope. It's been 32 years since Jacob passed away, yet when he shows up on his parents' front porch, he looks exactly like the cute little boy from yesteryear. There is no ashen tone to his skin nor hint of decaying flesh. He's scared and maybe a little shaken up early in the series, but there's nothing particularly sinister about his return. This means that we get plenty of speeches from his parents (played by Frances Fisher and Kurtwood Smith), the local pastor and more about miracles. It also leads to many questions about where the series is going and what it hopes to achieve on ABC.
By the end of episode 2, there are less ruminations from the townspeople about faith. Instead, the mystery has deepened somewhat, introducing us to other members of the Arkansas community and hinting at secrets from the past coming to life as members of the dead return. ABC has commissioned 8 episodes of Resurrection for its first season, and depending on where the writers choose to go, we could end up with a show that muses on human relationships or one that takes a mysterious science fiction sort of turn.
Despite solid performances from Fisher, Smith and more, Resurrection's slow pace will keep audiences in the dark through its first few episodes, making it difficult to contextualize the reality of dead people coming back to life. Additionally, the writing isn't solid enough to grip audiences, although a cliffhanger at the end of episode 2 offers a hint at more innovative material to come.
?Rating:
ABC has put Resurrection on a similar trajectory to CBS' Under The Dome. Its first season will run as a limited series, and if it's popular, audiences may see it back for another round next year. You can decide whether or not Resurrection is a good fit beginning on Sunday, March 9 at 9 p.m. ET.
Your Daily Blend of Entertainment News
Reality TV fan with a pinch of Disney fairy dust thrown in. Theme park junkie. If you've created a rom-com I've probably watched it.