Rizzoli And Isles Review: TNT Delivers With Its Latest Detective Drama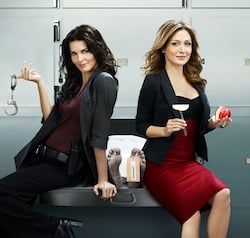 TNT's adding to their growing list of strong female characters (and cop dramas) with their new series Rizzoli & Isles. Set to premiere on Monday night, the series follows a detective and a medical examiner who work together to solve crimes.
The premise is simple enough. Angie Harmon (Law & Order) plays Boston detective Jane Rizzoli, an intelligent, experienced detective. Sasha Alexander (NCIS) plays Doctor Maura Isles, a well dressed, and equally intelligent medical examiner who knows how to keep her cool much better than Rizzoli does. They're both gorgeous, have great hair and despite the differences in their personalities, get along really well.
The series premiere follows Rizzoli as she works alongside an FBI agent to track down a serial killer apprentice and eventually, the serial killer himself as he manages to escape prison just in time to join his apprentice in a fresh wave of killings. We learn early on through dialog and flashbacks that Rizzoli has a personal interest in this case (and the scars to prove it). This first "big case" for the series not only gives us some background information on Rizzoli but it also introduces us to some of the other characters, including her current partner Detective Barry Frost (Thompson Young, Flashforward) and her former partner Detective Vince Korsak (Jordan Bridges, Dawson's Creek).
What works:
The series features two beautiful, successful women and TV can only benefit from more of that.
The opener includes a number of suspenseful scenes that will, at the very least, keep viewers engaged and near the edge of their seat, if not on it, while they get to know Rizzoli and Isles.
Lorraine Bracco as the naggy mother is kind of random but a nice tension releaser. In terms of her place in the show, she makes me think of an Italian, less flaky version of Leslie Ann Warren from In Plain Sight.
The suspense in the more violent scenes works nicely as we're only given glimpses of the crimes being committed. It's enough to give us a sense of the horrific acts being performed while not inducing nausea with overly graphic footage of the murders. The series doesn't bank on gore, at least not from what was shown in this opener but you do get a sense of the severity of the case Rizzoli is working on, and what she's up against both professionally and personally.
What needs some work:
The show is called Rizzoli & Isles but from the pilot episode, the series seems more focused on the Rizzoli and less on the Isles. While there were plenty of scenes where Isles was front and center, the plot for this first episode was focused more on Rizzoli. We get a sense of her friendship with Isles but not so much of their partnership at work, which is sort of what I was expecting, given the "Two different jobs. One killer team." tagline. As it's the first episode and there's still plenty of time for us to get to learn more about the other half of this dynamic duo, I won't judge it too harshly there.
Worth checking out?
If you like suspense, mystery and charming, intriguing characters, Rizzoli & Isles is definitely worth taking a look at.
Rizzoli & Isles premieres Monday, July 12 at 10:00 p.m. ET/PT on TNT.
Your Daily Blend of Entertainment News
Assistant Managing Editor
Kelly joined CinemaBlend as a freelance TV news writer in 2006 and went on to serve as the site's TV Editor before moving over to other roles on the site. At present, she's an Assistant Managing Editor who spends much of her time brainstorming and editing feature content on the site.