Ryan Hansen To Court Kate Walsh In NBC's Bad Judge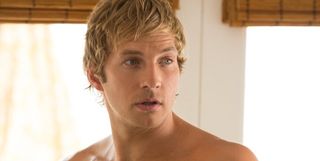 Everything's coming up Ryan Hansen! Ok, maybe not everything. Bad Teacher wasn't nearly as appreciated by the masses as it was by this viewer, but the Veronica Mars star has other prospects, including a return to Neptune in the form of a Veronica Mars web series spinoff, and now a regular gig on NBC's new comedy Bad Judge, which stars Kate Walsh as the titular judge. Walsh is coming off a role in the first season of FX's Fargo.
TVLine says Hansen will be a series regular in Bad Judge. Hansen is set to play the role of Gary, "a psychiatrist who has an on-again, off-again relationship with Walsh's hard-living, sexually unapologetic judge, Rebecca." Somehow, I don't have any trouble at all imagining some serious chemistry between Hansen and Walsh. Hopefully the reality lives up to its potential. In the meantime, it looks like Hansen is replacing Bones' Mather Zickel, who appeared in the pilot in the same role, but according to TVLine, left the pilot due to creative reasons.
Among Hansen's credits are Veronica Mars, Party Down, 2 Broke Girls and Burning Love. Hansen also had a starring role in CBS's very-shortlived comedy Bad Teacher, which was loosely based on the 2011 film. CBS gave the comedy three episodes before pulling it from the schedule and burning off the remaining episodes later in the summer. Prior to Bad Teacher airing, Hansen reprised his role of Dick Casablancas for the Veronica Mars movie, which released earlier this year. And he's set to reprise that character again -- kind of -- for the digital series CW Seed has planned, which will center on Hansen (playing himself) as he tries to put together a Dick Casablancas-centered Veronica Mars spinoff.
The webseries is evidently not interfering with Hansen's availability to do Bad Judge, which is a good thing, both for Hansen and the NBC series. NBC has Bad Judge set to premiere on October 2. It's one of two comedies occupying a spot on the network's revamped Thursday night, joining fellow newcomer A to Z. The two half-hour comedies are wedged between The Biggest Loser. This is a shift away from the usual two-hour comedy block that NBC once prided itself as must-see-TV, but hasn't exactly thrived in the ratings in recent years. Perhaps mixing it up with the weight loss series will help draw viewers back to the Peacock on Thursday nights.
Check out the trailer for Bad Judge after the jump!