Ryan Hansen Joins Bad Teacher, Playing A Shorts-Wearing Athletics Coach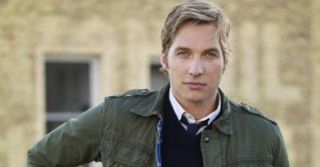 Veronica Mars' Ryan Hansen hasn't been able to find a permanent home on the small screen in recent years. Starz' excellent but unfortunately short-lived comedy Party Down was the closest he came to that since playing the amusing but usually-shallow Dick Casablancas in VM, but Party Down only lasted two seasons, and since then Hansen has jumped from project to project. Perhaps he'll have better luck with Bad Teacher, the single camera comedy pilot in the works at CBS.
Among CBS' comedy pilots is Bad Teacher, based on the 2011 movie starring Cameron Diaz. Earlier this week, we learned that Ari Graynor was set to play the lead and "bad teacher" in Hilary Winston's single-camera comedy pilot, which follows a former trophy wife who's left penniless and becomes a teacher in an effort to find herself a new man. Today Deadline reports that Ryan Hansen will play the "shorts wearing athletics coach" at the school where Graynor's Meredith works. If you've seen the movie, Hansen's character description might sound familiar. Jason Segel played the gym teacher and coach, who had his eye on Diaz's character, though she was more focused on Justin Timberlake's character. So perhaps Graynor and Hansen's characters are destined for eventual romance.
Hansen's hilarious, and I have a feeling he's going to have really great chemistry with Graynor.We'll find out if things go well for this pilot. His recent credits include appearances in 2 Broke Girls, The League and Wedding Band. He also starred in the short-lived comedy Friends With Benefits, and the pilot El Hefe, which didn't go to series. Let's hope he has better luck with Bad Teacher, as it'd be great to see him back on TV in a starring role.
Your Daily Blend of Entertainment News
Thank you for signing up to CinemaBlend. You will receive a verification email shortly.
There was a problem. Please refresh the page and try again.