SNL Has Chosen Who Will Play Donald Trump In Season 41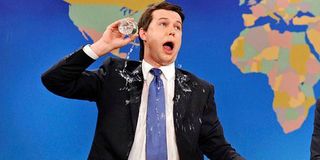 With the 41st season of NBC's popular late-night sketch comedy less than a month away, SNL is starting to prep for an event that comes every four years, an event that keeps the series relevant and has inspired some of its best comedy skits. That event: the United States Presidential Election. This time around, the funny men and women at SNL have one candidate in particular that is prime for the comedy pickings with his blunt attitude and animated facial expressions. Now they've finally decided who will take on the role. Taran Killam will be SNL's Donald Trump.
According to Deadline, there were several of the current cast members who auditioned for the role of Donald Trump, knowing the power that comes with that portrayal. Taran Killam scored the role, and since he joined the cast of SNL back in 2010 he has proved to be a hilariously talented impersonator ranging in celebrity characters from Matthew McConaughey to Piers Morgan. One of his best characters though is Weekend Update character Jebidiah Atkinson. Jebediah is an 1860s newspaper critic who always has something negative to say.
Taran Killam has impersonated a number of politicians on the series too, ranging from Adolf Hitler to Marco Rubio to Paul Ryan, so it will be interesting to see what he brings to the table for a Donald Trump impersonation. We can at least count on some sort of terrible blond hair piece.
This won't be the first time that Donald Trump has been parodied on the NBC sketch comedy. The celebrity businessman has spent a fair share of time grabbing headlines even before announcing his presidential candidacy. Most memorably he was portrayed by former long-time cast member Darrell Hammond. Sources told Deadline that Hammond was not considered for reprising his Trump impersonation, though he will instead bring back his signature politician character, Bill Clinton in cameo appearances.
Saturday Night Live certainly has had its highs and lows in the past years, but when the presidential campaign is in full swing, well so is the sketch comedy show. Politicians prove to be an easy target for comedians, particularly because they are so easy to catch off guard. Just a couple months ago Tina Fey exclaimed her excitement for Donald Trump's bid, deeming it great for the comedy industry.
Already we've seen former SNLer Jimmy Fallon take full advantage, inviting Trump himself onto The Tonight Show for a hysterical skit where Jimmy Fallon plays Trump's reflection in the mirror. That's just one instance though, but with SNL shifting back into gear on October 3, along with plenty of other late-night talk show's hosting the candidate, we are in for some good humor all around.
Your Daily Blend of Entertainment News
Your Daily Blend of Entertainment News
Thank you for signing up to CinemaBlend. You will receive a verification email shortly.
There was a problem. Please refresh the page and try again.