SNL Spoofs A Pirated Floyd Mayweather And Manny Pacquiao Fight In Cold Open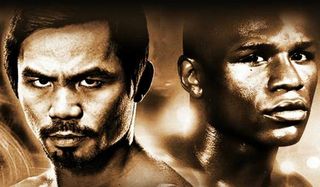 There's just something "off" about pirated videos, wouldn't you agree? NBC's Saturday Night Live broadcasted their pirated video of the Mayweather vs Pacquiao fight last night during the fight and the distorted results are hilarious. Take a look.
In the video from the latest episode of Saturday Night Live, the show opts for a cold open to discuss the highly anticipated "fight of the century" between Floyd Mayweather, Jr. and Manny Pacquiao on Pay-Per-View. The fight which was also dubbed "historic, once in a lifetime television" and "the moon landing of sports," aired concurrently during the SNL episode, a move that SNL couldn't help but poke fun at NBC for doing. The network apparently aired programming throughout the day that was sure to send boxing fans away from the network in time for the fight. Most notably, the cold open featured a pirated video—obtained from a hookup—of the much talked about HBO/Showtime Pay-Per-View fight, with disturbing yet hilarious results.
By the time the video cut to the supposed "live-feed" of the HBO/Showtime Pay-Per-View Mayweather vs. Pacquiao fight, the comedic genius of the spoof was well underway. The actor portraying Floyd Mayweather, Jr. was much taller than Mayweather himself and the actress—that's right, I said actress—portraying Manny Pacquiao was a woman, which is fine, but she looked nothing like the Filipino boxer, which made her casting all the more funny. That wasn't even the best part. The actual fight was probably the funniest moment of the entire skit, which is saying a lot given that the whole thing is hysterical. The slow motion footage of Mayweather and Pacquiao fighting—which doesn't really happen with HBO/Showtime Pay-Per-View, just in case you were wondering—was the icing on the cake, only to be outdone by the false reporting that Manny Pacquiao was victorious over Floyd Mayweather, Jr., a calculated move likely reflecting the widespread love for the Pac Man.
In truth, the judges decided that Floyd "Money" Mayweather had bested Manny "Pac Man" Pacquiao after the two went 12 rounds at the MGM Grand Garden. The "fight of the century," as it was called, may have been won by Mayweather, but Pacquiao still maintains the allegiance of his country, the Philipines and his boxing fans worldwide. Mayweather might even be a fan of Pacquiao at this point, as the undefeated Welterweight Champion apparently referred to his former opponent as a "champion" just after the fight.
Your Daily Blend of Entertainment News