Watch SNL's Hysterical Fake Trailer For A Black Widow Rom-Com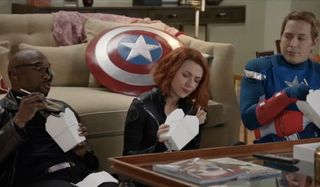 Marvel knows girls! Last night, Scarlett Johansson reprised her role as the token female Avenger, Black Widow on NBC's Saturday Night Live, taking a stab at what a Black Widow movie would look like. SNL debuted a fake trailer for the Black Widow rom-com, and it's absolutely hysterical. Take a look.
In the video from the latest episode of Saturday Night Live, everyone's favorite female Avenger, Black Widow, finally gets her own movie. In the hilarious fake trailer for the romantic comedy, the Marvel superhero—who is played by Scarlett Johansson—struggles to find her way on the job and maneuver the muddy waters of dating in New York. It's hysterical because she's like a female James Bond. Her biggest obstacle, of course, being her choice in men, namely Ultron. However, in the end Black Widow does get her much-deserved happy ending with none other than her Avengers teammate and Avengers: Age of Ultron co-star, the Hulk. Avengers movie fans who have seen the new movie will no doubt recognize the inspiration for the ending of the fake Black Widow rom-com.
In the new Avengers: Age of Ultron movie(some minor spoilers in this paragraph so skip to the next if you have yet to see Age of Ultron), there is a running theme throughout revolving around the potentiality for a relationship between Black Widow, aka Natasha Romanoff, and Bruce Banner, aka the Hulk. And though the pairing may seem ill-suited, given the Hulk's instability and rage, Black Widow is the only member of the Avengers who can in fact help the green Avenger calm down and transform back to his alter ego. There was a connection there and we all saw it on the big screen. SNL just took the idea and ran with it, and hilarity ensued.
The fake trailer also brought up an interesting point that has been a hot topic as of late, particularly since the release of the new Avengers movie, and that is the question: why hasn't there been a female-cantered Marvel superhero movie? The fake SNL trailer asks the question: does Marvel not know how to make a female superhero movie? Many a fans have asked this question recently given that so far we've seen two Captain America movies, three Iron Man movies, two Thor movies, one Guardians of the Galaxy movie and now two Avengers movies.
I guess we'll all have to wait to find out in 2018 when Marvel finally releases a female-centered superhero movie with Captain Marvel, which will center on the Carol Danvers version of the good captain. But, by that time, the total for male-centered Marvel superhero films will be much higher with three Captain America movies, two Guardians of the Galaxy movies, one Ant-Man movie, one Doctor Strange movie, one untitled Spider-Man movie, three Thor movies, three Avengers movies and one Black Panther movie. If Marvel does know how to make female superhero movies, they're surely keeping our suspense about it…for now.
Your Daily Blend of Entertainment News
Your Daily Blend of Entertainment News
Thank you for signing up to CinemaBlend. You will receive a verification email shortly.
There was a problem. Please refresh the page and try again.