Scifi Greenlights Battlestar Galactica Prequel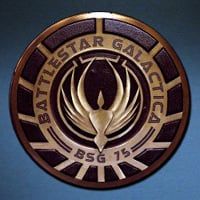 Cinema Blend writer/editor Steve West is at this very moment, attending the Sci Fi Channel's annual network Upfront. Prior to the gathering, he had the opportunity to sit in at a press conference with the cast and crew of Battlestar Galactica. Of the things that were discussed was the fate of the rumored BSG prequel, Caprica. Apparently, Caprica has officially been greenlit for production by the network.
According to executive producers, David Eick and Ron Moore, SciFi has given them the go ahead to get started on what will be a 2-hour pilot for a potential series. Caprica will take us back fifty years before the events in Battlestar Galactica and tell the story of the cylons' origins. Their aim is to premiere it this fall. We'll post more details if we get any.
I'm thinking by the fall, those of us who are just itching to get the second half of the final season of BSG will be most appreciative of the opportunity to dive into what will hopefully turn into another great SciFi series.
Update: According to the official press release:
"Set 50 years before Battlestar Galactica, Caprica follows two rival families – the Greystones and the Adamas – as they grow, compete, and thrive in the vibrant world of the 12 Colonies. Enmeshed in the burgeoning technology of artificial intelligence and robotics that will eventually lead to the creation of the Cylons, the two houses go toe-totoe. Caprica will deliver all of the passion, intrigue, political backbiting, family conflict and hardcore action that always leaves Galactica fans begging for more."
"I'm thrilled with the chance to expand on the Galactica world and get deeper into the origins of the story we've been telling," said Moore. "It's also great to have a chance at doing a completely different kind of science fiction series, one that's even more character-oriented and doesn't rely on pyrotechnics to carry the story."
"While Caprica will have its own personality, it will carry on Battlestar's commitment to pushing the boundaries of the genre, and we're thrilled that SCI FI has seen fit to giving us another opportunity to tell character-driven stories in challenging ways," added Eick.