Scrubs' John C. McGinley Joins TBS Pilot Ground Floor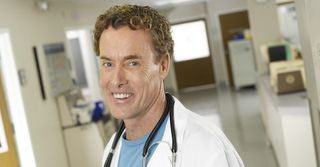 Scrubs creator Bill Lawrence has signed on a familiar face to his new pilot, Ground Floor, at TBS. John C. McGinley, who gave Dr. House a run for the title of least pleasant doctor on television on Scrubs as Dr. Cox, will co-star in the workplace comedy project.
Ground Floor takes place in a corporate office and centers on a successful 29-year-old man who is used to getting his way and who finds himself crossing paths with the company's support staff, who are a close-knit, happy group of people. McGinley will be coming on board the project to play the boss at the company, Mr. Mansfield. Deadline says that although Lawrence knows McGinley well from their years on Scrubs, neither he nor co-writer Greg Malins (How I Met Your Mother) initially had him in mind when they wrote the role. Both are happy with the casting, though, and Lawrence says he'd "kill to work with John on anything". Sounds like a ringing endorsement, and McGinley certainly has the demeanor to play a corporate bigwig in a comedy.
The actor has been keeping busy since Scrubs wrapped in 2010, dong an arc on Burn Notice as well as several big screen projects, including the comedy Get A Job with Bryan Cranston and 42, which is about the life of baseball great Jackie Robinson.
So far, McGinley is the only casting news for this pilot, meaning the main lead has yet to be chosen, but the actor's casting is a great start. Gail Mancuso (Modern Family) is on board to direct, adding to the already-strong comedy team behind the project.
Your Daily Blend of Entertainment News
Thank you for signing up to CinemaBlend. You will receive a verification email shortly.
There was a problem. Please refresh the page and try again.