Sean Astin Added To Guillermo Del Toro And Chuck Hogan's The Strain Pilot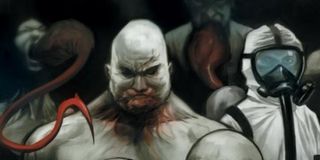 As Guillermo del Toro's Pacific Rim prepares to crash theaters this weekend (with twitter reactions so far ranging from love to hate), casting continues on the writer-director's small screen adaptation of The Strain. Based on Chuck Hogan (who also wrote Prince of Thieves, the source material for Ben Affleck's The Town) and del Toro's horror novel, FX added Lord of the Rings's Sean Astin to the pilot's increasingly solid ensemble that already includes Corey Stoll, Mia Maestro and the legendary John Hurt.
The Strain's showrunner Carlton Cuse, famous for Bates Motel and LOST, took to twitter to make the 'thrilling,' albeit concise (or Hobbit-sized), announcement…
Since many people probably haven't read the book (trilogy, which also includes The Fall and The Night Eternal), I should probably explain the plot before getting into any specifics about the character Astin will play. Even though, I also haven't read it. The Strain is about a viral outbreak that turns anyone infected essentially into vampires and for the most part follows the CDC rapid-response team investigating the biological threat. The 'Canary Team' (sounds dangerous) is led by Dr. Ephraim 'Eph' Goodweather (Stoll) and employs his best friends Nora (Maestro) and Astin's Jim Kent, the groups' political operative who may or may not be coerced into some shady disease dealings. I don't know if the specific character details in the THR article are spoilers or not, so I'll just leave it at that.
The Strain pilot, directed by del Toro and written by del Toro and Hogan, marks the second potential new series for Astin with him also recently signing on to CBS' The Surgeon General starring Jason Isaacs. I don't blame him. It's always a good idea for an actor to hedge their bets when it comes to television gigs, especially since both are still only at the pilot stage. THR also notes, however, that The Strain recently added a writing staff to handle an order for additional scripts from the network, a development that certainly sounds promising and suggests del Toro and Hogan's project is on its way to being picked up. In fact, I would be pretty shocked if it doesn't go to series at FX since the director cast all the network's stars in his summer blockbuster.
Yep, Sons of Anarchy's Charlie Hunnam and Ron Perlman as well as It's Always Sunny's Charlie Day are the main players in the Kaiju (monster) versus Jaeger (robot) movie. Maybe del Toro just really digs FX. I do.
Your Daily Blend of Entertainment News
Thank you for signing up to CinemaBlend. You will receive a verification email shortly.
There was a problem. Please refresh the page and try again.