See How Crazy Batman's Two-Face Would Have Looked Back In The Day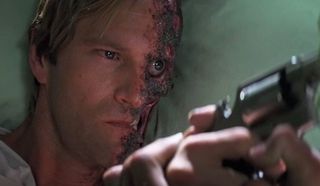 Popularity for the 1960s Batman TV show has never been higher. The series is finally getting released on Blu-Ray and DVD in November, and comic book readers are getting more adventures with the campy Dynamic Duo in the Batman '66 comic book. However, despite the legendary status of the series, there are still a few flaws that leak through...but only a few! Namely the absence of A-list Batman enemy Two-Face. During its three seasons, viewers never got to see the scarred Harvey Dent tussle with Batman and Robin, and for years fans have wondered how he might have appeared in that wacky setting. Well, fear not, old chums. We now know what the dual-faced deviant would have looked like, and it's even more insane than anything you could have imagined. Check it out.
Post by The Alex Ross Collector.
Comic book artist Alex Ross, noted for his photorealistic style, posted his cover for Batman '66: The Lost Episode on Facebook, and as you can see, even Batman and Robin look put off by this Two-Face.
It might be cliched to say this, but he really looks like he was ripped right out of the pages of a '50s or '60s Batman story. The color-contrast on his tuxedo may be a fashion disaster, but it perfectly exemplifies how obsessed with duality the villain is. An added bonus is that the red and orange would surely blind anyone who stared for too long. Oh, and the hair! The acid that scarred his face may also have colored his hair white, but don't be surprised if this Two-Face purposefully combed his in the opposite direction for that unkempt, wavy look. That's truly the sign of a madman. He's even wearing mismatching socks! Tommy Lee Jones looked bizarre in Batman Forever, but even he didn't take it to that level.
There's speculation that Two-Face was never included on the show because his appearance was deemed "too gruesome," but frankly, he would have fit right in with the rest of Batman's colorful rogues gallery. Granted, censorship both in comic books and TV was significantly more restrictive back then, but if the makeup had been done right, it would have quite the visual spectacle. Also, no matter how gruesome Two-Face may have looked, he wouldn't have been as creepy looking as Caesar Romero's Joker with the white makeup applied over the mustache.
Batman '66: The Lost Episode is an adaptation of an unused script from writer Harlan Ellison. This version of Harvey Dent would have been a TV reporter rather than a district attorney, and Clint Eastwood was in discussions to play him. Can you picture that? Dirty Harry fighting Adam West's Batman and Burt Ward's Robin. It's surreal. This Two-Face doesn't look like he bears any resemblance to Eastwood, but he'll likely give the Dynamic Duo a run for their money. If you're a Batman '66 fan and are dying to see what Two-Face would have been like on the series, you find The Lost Episode on November 19 at your local comic book store.
Your Daily Blend of Entertainment News
Connoisseur of Marvel, DC, Star Wars, John Wick, MonsterVerse and Doctor Who lore. He's aware he looks like Harry Potter and Clark Kent.
Your Daily Blend of Entertainment News
Thank you for signing up to CinemaBlend. You will receive a verification email shortly.
There was a problem. Please refresh the page and try again.