The Selection TV Adaptation Finds Its New Lead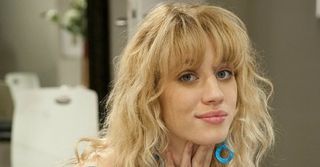 The CW's anticipated TV adaptation of Kiera Cass' The Selection has found its lead… again. The first go-round for the adaptation had Friday Night Lights star Aimee Teegarden set to play the lead, but that version of the adaptation didn't go to series. The CW hasn't given up on the project, however, and the lead for the new version of the pilot has been cast, with Yael Grobglas signed on to play the role of America Singer.
The Selection is set centuries in the future and follows America Singer, a girl among the thirty-five chosen to compete for the chance to win the heart of a gorgeous prince and live in a palace. While most girls would consider this the chance of a lifetime, America wants nothing to do with it, as it means turning her back on her secret love with a boy who's caste below her. But after meeting the prince, she begins to reconsider her future.
The lead role of America has been filled by Israeli beauty Yael Grobglas. She's of French and Austrian descent, though she grew up in Israel and starred in the Israeli series Tanuhi. Deadline says she took a trip to the U.S. to audition for Elizabeth Craft and Sarah Fain's TV adaptation of The Selection, and won herself the role. The original pilot had Aimee Teegarden and Ethan Peck set to play the leads, but that pilot didn't go to series and Teegarden has since moved on to another CW pilot (Oxygen). Sean Patrick Thomas and Peta Sergeant will reprise their previously cast roles. There's no mention of whether or not Ethan Peck will reprise his role as Prince Maxon, so we'll have to wait and see if that's the case or if someone else is cast opposite Grobglas.