The Sidekick 2013 Comic-Con Panel Recap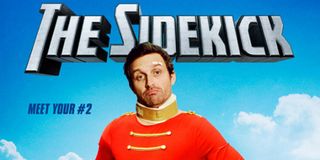 Another project trying to generate buzz at SDCC this year is Rob Benedict's The Sidekick. The short about career sidekick Max McCabe works well as a standalone film but the team behind it has hopes of using the one-off as a pilot for a future series on cable or the web. Created by writer and star Benedict with director Michael J. Weithorn (King of Queens), The Sidekick features an amazing cast of comedians, most of whom were in attendance for the panel including Lizzy Caplan, Martin Starr, Josh Meyers, Richard Speight Jr., Jordan Peele and Jason Ritter.
Benedict kicked things off by briefly introducing the project before throwing to the world premiere of The Sidekick. The short follows a career sidekick's journey of self-discovery after he's fired by his superhero boss played by Ron Livingston. The dismissal sends Max, a crime fighting partner with quick hands who specializes in catch-phrases, looking for help from his fellow sidekicks and searching for a new Superhero to team up with. This leads to a string of unsuccessful interviews - the least engaging part of the film - before Max finds himself a girl (Caplan) and renewed sense of purpose.
Beautifully shot and well acted, The Sidekick starts off pretty slow but eventually picks up for a satisfying and charming second half largely thanks to the chemistry between Benedict and Caplan. I'm not sure if the short would work as is if made into a series or if the world they've created has legs beyond the story Benedict tells here. It's a nice and neatly wrapped narrative as it stands. I don't think I'd tune in to see what happens next. And for a comedy, it could sure use a few more laughs. Thank God for Martin Starr.
The panel had the same vibe to it, with Benedict coming across as very earnest and charming while the rest of the panel supplied the humor. The creators described the genesis of the project, with Benedict relating his experiences as an aging actor with those of a sidekick who is also past his prime, not to mention has no real world skills to parlay into another career. Once he had written the script, he sent it off to a few friends who quickly became collaborators on The Sidekick. Some of them then pass it along to their friends and soon enough, several great comedians were lined up to star.
On a very limited budget, Benedict and Weithorn managed to shoot the entire short in five days. That's a lot of work for such a short production window and The Sidekick's aesthetic and scale is even more impressive when taking that into account. Not to mention to costumes, which were pretty elaborate for an indie project. The cast then shared their favorite part of their respective outfits, well, only after they all discussed the benefits of wearing a dance belt - basically a g-string. The dance belt was Speight's favorite while Peele liked his steampunk goggles, Ritter mentioned the high boots (and the commitment it takes to wear them) and Myers talked about a special pair of jerk sunglasses that he bought and brought personally.
As far as what superheroes the panelists would like to sidekick for, Benedict went with Batman while Peele and Starr decided to both pair up with Wonder Woman because they liked to be tied up. That also led to Starr's first ever public fist-pump which Ritter was psyched to witness. Right in his face. Oh, and Caplan went with Supernatural. I don't think she's a comic book reader. As you can probably tell, the cast were really funny up there together, it's just too bad The Sidekick didn't have as many laughs. Still, it has its moments and is surprisingly sweet. If you want more info on the project (where you might see it), head over to thesidekickproject.com.
Your Daily Blend of Entertainment News