Sleepy Hollow Renewed For Season 2 On Fox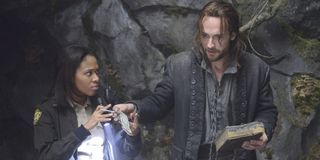 One of the most impressive debuts this fall was Sleepy Hollow, Fox's new supernatural series which takes the Ichabod Crane and headless horseman readers may be familiar with from The Legend of Sleepy Hollow and throws them into the modern-day world. The first three episodes have done well at the network and now Fox has made the quick decision to bring the series back for Season 2.
The first episode, which resurrected Ichabod Crane into the modern world, is a little campy, and is extremely reminiscent of Tim Burton's recent box office flop, Dark Shadows, down to the fact that both Barnabas Collins and Ichabod Crane are a little freaked out upon encountering pavement for the first time. Still, the drama's fish-out-of-water story and an incredible performance from British actor Tom Mison has made Sleepy Hollow extremely watchable during its first three episodes. The premiere earned 10.1 million same day viewers and the show has remained steady, with an audience of roughly 8 million same day viewers tuning in for the two subsequent episodes. The network also noted on Thursday that over 22 million people have caught the pilot episode since it first aired.
While those numbers are pretty good for Fox, I wouldn't call them spectacular, so why has the network already renewed the series? I have two theories. The first is that Sleepy Hollow has proven it is able to retain viewers. Sure, there was a little bit of a drop between the premiere episode and episode 2, but losing live viewers after the first episode is normal as audience decide what programs they are going to watch, what programs they would rather DVR to watch later, and what programs they would prefer to drop altogether. Regardless, between weeks 2 and 3 Sleepy Hollow actually retained 97% of its audience, which seems to prove that people like the series and are sticking with it.
Secondly, it's a vote of confidence in a first season series to renew it. I can't tell you how many times I've invested in a drama or comedy during the first season only to have the network cancel the show before it ever finds its sea legs. Sometimes, people will even hold off on trying new programs until they feel reasonably confident the show will be back next year—which can sometimes be a difficult guessing game. Now, that we know Sleepy Hollow will be back, it should give audiences confidence in the series and it should give the writers confidence to flesh out where they want the show to go over a couple of years instead of just one.
Next week's episode follows Lt. Abbie Mills (Nicole Beharie) and Crane who are on the hunt for Abbie's estranged sister, Jenny, a woman who recently escaped from the mental institution. Additionally, Fox says flashbacks to the Boston Tea Party will come into play, helping Ichabod and Abbie to learn more about the evil they have been facing over the past several weeks.
If that sounds remotely interesting, you can tune in to Fox's Sleepy Hollow on Mondays at 9 p.m. ET. You can also catch up on the first three episodes over at Fox.
Amazing Race & Top Chef superfan with a pinch of Disney fairy dust thrown in. If you've created a rom-com I've probably watched it.