Sleepy Hollow Review: Fox's Suspenseful New Drama Is Anything But Sleepy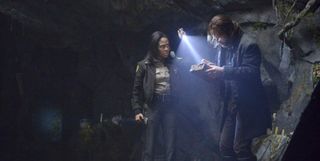 While Roberto Orci and Alex Kurtzman have worked together on numerous TV projects over the years, they haven't teamed with Underworld director Len Wiseman since Hawaii Five-0. That turned out to be a winning combination for CBS, and based on the first episode of Sleepy Hollow, it looks like it may be again, except this time around it's for Fox. Co-created by Kurtzman, Orci, Wiseman and Phillip Iscove, Sleepy Hollow throws a modern-day twist onto Washington Irving's short story The Legend of Sleepy Hollow, taking some liberties with the source material and bringing Ichabod Crane and the headless horseman into the present.
Just to be clear, Ichabod Crane (Tom Mison) starts out in the past, only instead of being a school teacher, he's a soldier and spy in the revolutionary war, and practically on a first-name basis with none other than General George Washington. How he wakes up 250 years into the future in the quaint but enigmatic Westchester town of Sleepy Hollow is part of the mystery of the pilot, as is the arrival of the headless horseman, who's all too eager to take lives, baffling the local law enforcement in the process. As Crane's arrival happens right as the local sheriff is killed by the Horseman, the police believe Crane may be involved somehow, which puts him in the path of Detective Abbie Mills (Nicole Beharie), a woman who was planning on moving on to bigger and better things in her career. Abbie's boss is Captain Frank Irving (Orlando Jones), a man who seems to have little patience for anything out of the ordinary. And Katia Winter plays Ichabod's wife Katrina, who factors into the mystery as well.
The focus of the first episode rests almost entirely on Abbie and Ichabod trying to figure out what's going on, as the Horseman continues to take lives and wreak havoc on Sleepy Hollow. It seems like there may be traces of chemistry between Abbie and Ichabod, but it's far too soon to tell how well these two will gel together either platonically or otherwise. If there's anything that stood out among the leads, it's Mison's ability to play up the severity of the situation when necessary, and then play it down with a bit of dry humor when the tension needs to be eased. It's that balance that makes this first episode work so well, as there's suspense and mystery pushed into just about every scene, but we're also frequently reminded that Ichabod Crane's not from around here. He's not used to Starbucks and women in trousers.
Of course, the pilot runs the risk of overplaying that "fish out of water" humor, but it manages to avoid doing that, inserting a few jokes here and there, and a couple of necessary reminders that there's an adjustment factor for Crane, while not dwelling too heavily on that aspect of the story. In other words, the pilot doesn't jump at every single chance it has to remind us that Ichabod's from the past, but it does use that element to lighten the mood when necessary. As Abbie, Beharie plays off Mison's humor well. Hopefully that remains the case, and I think it will. Crane seems designed to be the kind of quick-thinking character who's able to adjust fairly quickly, and we soon come to learn that this is not the first strange occurrence in Abbie's life, which may explain at least some of her willingness to work with Crane from the start.
Beyond the introductions to the characters, there's the set-up for what's really happening in this story. Why have Crane and the Horseman arrived in Sleepy Hollow so many years beyond their day? American history plays its part, which makes Sleepy Hollow feel a bit like an adventure story, in addition to having horror and supernatural elements.
Fox only gave us the first episode to watch, so I can't comment on how well the show works beyond its first installment, but watching the pilot, I can see why Fox sent this one to series. Sleepy Hollow is exciting, fun and dark, with a side of adventure and mystery to keep us interested through each act. The success of the first episode pretty much hinges on two things. The first is that it delivers enough information about the set-up and background without overwhelming the viewer. The second is that Abbie and Ichabod are interesting and likable. Sleepy Hollow succeeds in both efforts, pacing itself nicely through its pilot episode to bring the start of an exciting story to the small screen, while also introducing us to the leads, both of whom are at their best when they're on screen together. In the end, we're left wanting to know more about what's ahead, as it soon becomes evident that there are big things at stake, not only for the residents of Sleepy Hollow, but for humanity. The series' next challenge is to pace itself just as well going forward as it aims to play this mystery out bit by bit and also keep us entertained each week. If it succeeds in doing that moving forward, Fox has a winner on its hands.
Sleepy Hollow premieres Monday, September 16 at 9:00 p.m. ET on FOX. Watch the trailer here.
Your Daily Blend of Entertainment News
Assistant Managing Editor
Kelly joined CinemaBlend as a freelance TV news writer in 2006 and went on to serve as the site's TV Editor before moving over to other roles on the site. At present, she's an Assistant Managing Editor who spends much of her time brainstorming and editing feature content on the site.
Your Daily Blend of Entertainment News
Thank you for signing up to CinemaBlend. You will receive a verification email shortly.
There was a problem. Please refresh the page and try again.