Will Smith Does The Fresh Prince Of Bel-Air Rap On The Graham Norton Show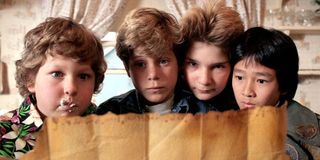 You hear things occasionally about celebrities who don't love constantly being associated with one particular role. And then there are those who embrace the long-term adoration from fans for the signature characters they've played. Will Smith seems to be an example of the latter group, as evidenced by his recent performance of the Fresh Prince of Bel-Air theme song, which he delivered during an interview on BBC One's The Graham Norton Show.
If you were around during the '90's, there's a good chance you know the rap song by heart. It's a story all about how a kid from West Philadelphia's life got flipped turned upside down… While promoting Men in Black III, Smith sat down on Graham Norton's talk show, and the subject of Fresh Prince came up. This led into Smith rapping the theme song to the popular sitcom, while the audience sang along and Take That's Gary Barlow provided some musical accompaniment with a keyboard. Here's the video (via THR):
Beyond the gleeful nostalgia this video inspires, I love the apparent fondness Smith has for the TV show that helped catapult him to super-stardom. Sure he was rapping about how Parents Just Don't Understand before he headed off to Bel-Air, but the NBC sitcom made Smith a household name. It's good to see he still has fun looking back.
And now I have a strange mash-up of the Fresh Prince theme song and Take That's "Back for Good" stuck in my head. '90's!
In related news, just last month, we shared the video of Alfonso Ribeiro doing the Carlton Dance as part of a flash mob. Watch that slice of gloriousness here.
Your Daily Blend of Entertainment News
Thank you for signing up to CinemaBlend. You will receive a verification email shortly.
There was a problem. Please refresh the page and try again.