So You Think You Can Dance Watch: Top 6 Results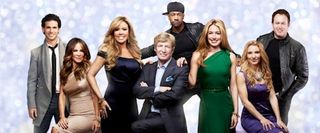 Last week, Lady Gaga and her three-foot heels dropped by the show for a bit o' judging, and was rewarded with some truly awesome dancing. Melanie and Sasha continue to blow the rest of the pack away, and were even paired together in the season's first all-girl duet that had the entire audience applauding and groveling at their feet. With only a couple of weeks before the winner is crowned, it's clear that anything short of absolute perfection will be unacceptable. Sadly, last week was the swan song of early-season favorite Jordan, as well as Broadway boy Jess. Six remain.
Someone made a comment to my recap last week by reminding me that Melanie, while brilliant, has had the benefit of not having as much variety as Sasha has. So I went back and checked, and found that that person did, in fact, have a point. Going into this week, of the eleven total routines that the remaining contestants had performed for the benefit of viewers, Melanie had danced five contemporary routines, three jazz, two ballroom and only one hip-hop. Sasha, on the other hand, has had only three contemporary, along with two jazz, three hip-hop, two ballroom and one Broadway.
What does this mean? Well, my weekly rankings could be construed as the order in which I think they are likely to win, which is not necessarily the order that I HOPE they will win. I am not disputing that Sasha has shown more chops than Melanie thus far, but it should be taken into account that Melanie is a darling with the judges and the viewers, and that's a pretty significant factor. Also remember: the contestants pick their genres out of a hat. The fact that Melanie has gotten contemporary so many times, barring any evidence to the contrary, is simply luck of the draw (Nigel and Cat made mention of this very fact).
This week's All-Stars are:
Pasha Kovalev, Season Three (Top 6). (3rd appearance)
Jaimie Goodwin, Season Three (Top 10). (1st appearance)
Stephen "Twitch" Boss, Season Four (runner-up). (2nd appearance)
Janette Manrara, Season Five (Top 8). (1st appearance).
Ellenore Scott, Season Six (4th place). (1st appearance)
Kent Boyd, Season Seven (runner-up). (1st appearance)
Joining Nigel and Mary on the panel this week was loquacious hip-hop choreographer/audition round judge Christopher "Lil' C" Toler, bringing with him his buck vocabulary and cool vibe. Also present was TV/movie actress Christina Applegate, star of the upcoming NBC show Up All Night. I've always liked Christina… hard to believe she's now pushing 40! Seems like only yesterday she was raising dippiness to a high art from as Kelly Bundy, doesn't it? She's not had as extensive a background in dance or Broadway as most of the previous celebrity judges, but it was still cool to have her there, even if it was mostly to plug her show… on a different network. What's that all about?
Considering that we're only one week away from crowning a winner, tonight's show was surprisingly tension-tree for me, because I could predict with almost total certainty who was going home. For Melanie and Sasha not to make Top 4 after the season they've had would be a crime against the gods of reality TV, and despite his miraculous save last week, I had my doubts that Ricky would survive this week too… besides which, I think most will agree, Marko and Tadd have outperformed Ricky at nearly every turn.
RESULTS
With only three guys and three girls left, the season finally reached the point where it wasn't the judges who ultimately decided who to eliminate, but the viewing public. No one had to dance for their lives, and the judges were quite thankful to have that particular bat taken out of their hands. I am happy to say, the four contestants who truly deserve to dance for the title "America's Best Dancer" are the ones who went through. Caitlynn and Ricky had terrific, amazing runs, but they came up one notch short in the end.
After eight weeks of competition, here are my rankings:
1. Melanie Moore – performed a hip-hop routine (with Twitch) choreographed by Nappytabs, and a Broadway routine (with Tadd) choreographed by Spencer Liff. I was happy to see Melanie get something other than contemporary this week; perhaps a couple of terrific performances would get her nay-sayers off her back. If you're going to do hip-hop, you could ask for better people to work with than Nappytabs and Twitch, and the duo played the roles of Red Riding Hood and the Big Bad Wolf, to the strains of "Roman's Revenge" by Nicky Minaj. But Melanie was no saucer-eyed waif in the woods, no, she got her swag on very well. It's not her best genre, but she more than held her own. And it was so nice to finally get her on the stage with Tadd. The Broadway routine they danced, to the mellifluous strains of Shirley Bassey, was my favorite of the night. It was passionate, beautiful and awesome. And I just have to say it: no matter how awesome Sasha is, I am still rooting for Melanie to win. She has proved her self every single time, and that's what champions are made of.
2. Sasha Mallory – performed a contemporary routine (with Kent) choreographed by Tyce Diorio, and a waacking routine (with Ricky) choreographed by Kumari Sulaj. The contemporary routine, a very emotional one, was terrific, involving a lot of gymnastic pirouettes, holds and even a parkour move thrown in, with the one prop being a gigantic wall. She had Christina gushing with praise, and all the judges followed suit. Now, I'm only vaguely familiar with waacking, and that's due to one particularly memorable contestant in the auditions (Samara "Princess Lockerooo" Cohen was her name... you may remember her, she's the one that looked like Trinity from The Matrix). There is a copious amount of arm movements, to the point where you could even call it flailing. The routine itself was interesting, but I can't help but wonder if this genre is here to stay or a currently-hip fad. Sasha killed it, of course. Any other season, I'd probably be voting for her to win, but, against Melanie, I just can't. Which doesn't mean she won't win, because I think their chances are about even-steven.
3. Marko Germar – performed a paso doble (with Janette) choreographed by Dmitry Chaplin, and a jazz routine (with Caitlynn) choreographed by Sonya Tayeh. The paso is one of my favorite ballroom dances, and Janette is the perfect partner for Marko for it. The dance was very traditional, with Marko being the bullfighter and Janette representing his matador cape, and the music was very simple, using only Spanish guitar, castanets and clapping. It would have been so easy for Marko to come up short, but he held his own. Nigel dinged him for not being passionate enough, but he was the only judge who felt that way. The jazz routine that ended the show was different than Sonya's other one, as it was filled with a lot more negative energy. I wasn't sure I would buy Marko's "angry" act, but it worked. He is a truly great dancer and all-around guy, and I'm quite proud of him.
4. Tadd Gadduang – performed a jazz routine (with Ellenore) choreographed by Sonya Tayeh, and a Broadway routine (with Melanie) choreographed by Spencer Liff. Sonya went for the sexy in this jazz routine, which had Tadd and Ellenore playing a couple from centuries past who discover sensuality for the first time. There was a lot of kissing of limbs, and even swinging from a well-placed chandelier. I loved it, and Tadd proved yet again why he's my favorite male contestant this season. His routine with Melanie, which involved not only some incredibly athletic jumps but a fair amount of acting, was brilliant. B-boys should not be able to do this THIS WELL. He's an amazing dancer, and completely deserving of a spot in the final.
ELIMINATED THIS WEEK
Caitlynn Lawson – performed a samba (with Pasha) choreographed by Dmitry Chaplin, and a jazz routine (with Marko) choreographed by Sonya Tayeh. What else can you say about Caitlynn? She's been remarkable this whole season, and is totally deserving of her Top 6 spot. Her samba with Pasha was fun and sexy, with the requisite shimmying and samba-rolls. In the jazz routine, Caitlynn played a woman trying to escape the clutches of her control-freak significant other (Marko). There was a lot of clutching, grasping, throwing and even a chase scene, and it was quite good, but tiring just to watch. It was easy to predict Caitlynn's ousting from the show, which is why I choose not to say any more negative things about her. She was a "beast" the whole season, and she's a real "beauty" to watch as well. She'll be a worthy All-Star for some guy next year.
Ricky Jaime – performed a contemporary routine (with Jaimie) choreographed by Dee Caspary, and a "waacking" routine (with Sasha) choreographed by Kumari Sulaj. I really loved the music for the first routine (Trent Dabbs' "Inside These Lines"), which involved Ricky using small wooden sticks to kind of air-manipulate Jaimie around the dance floor. If this routine is the last thing I'll remember about Ricky, then it's a good memory, is all I'll say. Nigel made his comments helpful but noncommittal, as if not to inflame Ricky's fan-base. As for Ricky's waacking, well, the first time trying anything is about to be a little rough, and the judges dinged him on this routine too. Kind of poetic… first he waacked, then he GOT whacked.
Next week: the finale (or, as Cat deliciously pronounces it, the fih-NAAAH-leee), where the winner is crowned. Will it be Melanie? Will it be Sasha? Or will one of the boys surprise everyone and win?
Your Daily Blend of Entertainment News