Spartacus: War Of The Damned Review: The Beginning Of The End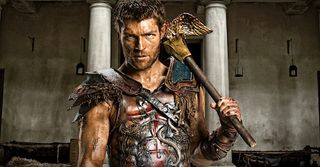 Spartacus set itself up for some major changes at the end of last season, when Vengeance wrapped up, and those changes are apparent from the start of Spartacus: War of the Damned, the final season of the Starz historical-fantasy drama. (It should go without saying that Vengeance spoilers will be mentioned in this review, but I'll say it anyway, if you're still getting caught up on last season, read no further!)
When Vengeance ended, a number of recurring story arcs and characters ended with it, closing out a pretty fantastic season but leaving the core cast substantially diminished. As fantastic and horrific as their respective departures were, the absence of Lucretia, Ilithyia, Oenomaus, Ashur, Glaber and Mira is noticeable as War of the Damned picks up. WIth that said, the story is moving forward and in some ways starting fresh. So, I don't want to dwell on the absence of a lot of familiar faces, but as a fan of this series, going into War of the Damned felt like starting over in some respects. And that's probably not such a bad thing, but it does take an episode or two for the engine to warm up in the series' final season.
With the help of Crixus (Manu Bennett), Gannicus (Dustin Clare) and Agron (Daniel Feeuerriegel), Spartacus (Liam McIntyre) is attempting to manage his growing army, tend to the needs of the freed slaves and continue to slay Romans in grand fashion and some bloody battle scenes. And with growing numbers comes what might be Spartacus' steepest opposition yet. Marcus Crassus (Simon Merrells) wants to take Spartacus down and he's not foolish enough to underestimate his opponent as others have. He enlists the help of young Julius Caesar (Todd Lasance) for his cause. Caesar is arrogant, but smart and the attention he receives from Crassus hasn't gone unnoticed by Crassus' son Tiberius (Christian Antidormi). Tiberius is also young but he's determined to prove his worth to his father, and he's keeping a close eye on what's going on in the process.
If you're familiar with Spartacus, then you know that this show doesn't focus entirely on its heroes. Almost equal time is spent developing the characters that pose a threat to Spartacus and the freedom he's attempting to achieve for himself and his fellow (former) slaves. The attention paid on the opposition enhances to the story as it explains their motives and furthers the momentum when the two sides inevitably face off. While many of the players on the opposing side have changed, the game and the rules of this show remain the same, so some of the first episode - and even more of the second episode of War of the Damned - focuses on the introductions of Crassus, Tiberius, Caesar and Crassus' beautiful slave Kore (Jenna Lind).
The first episode follows up on some of the remaining romantic relationships in the series, including Crixus and Naevia (Cythia Addai-Robinson), and Agron and Nasir (Pana Hema-Taylor). There's also another couple (sort of) introduced among the leads, but I won't spoil that - though I will say, if you were paying close attention during Vengeance, you may have predicted this pairing, and if you predicted that it would be hot, you were right about that too. Season 3, Episode 1 ("Enemies of Rome") offers some great, bloody battle scenes and checks in with the characters to give an idea of where things are starting out, but Episode 2 ("Wolves at the Gate") is where things really get going, as Spartacus and his men attempt to secure shelter ahead of the approaching winter, and Crassus enlists Caesar's help. While the second episode offers better momentum than the first, both episodes give us an idea of where Spartacus is as a leader and how he's managing to maintain control and make choices for the cause, for himself and for the men and women looking to him for direction.
This is the last season, and fans are likely hoping for something spectacular. It's all been leading up to this as we watched Spartacus go from warrior to slave and gladiator, to free man and military leader. Crassus and Caesar could prove to be a devastating force to Spartacus and his army, putting the lead character to what may be his final test as this story wraps up.
I've admitted in the past that I didn't love Spartacus: Blood and Sand from the start. It took word of mouth to get me to give the show a second look, and I'm glad I did. What I came to learn was that the first few episodes of the series were really just laying the groundwork for some fantastic story and character drama to come. I'd place War of the Damned's premiere far above Blood and Sand's, as Steven DeKnight's series has come a long way from it's start in its storytelling, but there really is the sense of a new beginning and new settings and characters that make the series feel a little bit unfamiliar at the start. But, as was the case in Blood and Sand, once the story got rolling, Spartacus got really good. If "Wolves at the Gate" is any indication, a similar formula applies to War of the Damned," and there is much to look forward to as this compelling, action-packed, bloody drama approaches its end.
Spartacus: War of the Damned premieres Friday, January 25 at 9:00 p.m. on Starz.
Assistant Managing Editor
Kelly joined CinemaBlend as a freelance TV news writer in 2006 and went on to serve as the site's TV Editor before moving over to other roles on the site. At present, she's an Assistant Managing Editor who spends much of her time brainstorming and editing feature content on the site.
Your Daily Blend of Entertainment News
Thank you for signing up to CinemaBlend. You will receive a verification email shortly.
There was a problem. Please refresh the page and try again.