Star-Crossed Review: A Promising Teen Drama With An Alien Twist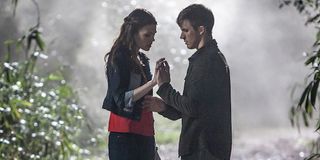 The CW appears to be staying the course in its focus on genre programming, and Star-Crossed follows along with that trend while simultaneously giving teens and young adults a new high school-set drama, which offers a titular nod to both the alien twist and Romeo and Juliet. Created by Meredith Averill, Star-Crossed involves aliens settling on Earth and attempting to co-exist with humans, though the sci-fi element seems set up to serve a teen romance with a bit of barely-veiled metaphor about tolerance worked in as well. The second episode, however, hints at the potential for a broader story that could expand the series to something a bit more than simply Twilight with aliens.
I get the appeal of Twilight, especially as it relates to teen romance, so that comment isn't so much a jab at CW's new drama or Twilight as it is an acknowledgement of structure of the story as it's introduced to us. Twilight was a teen romance first and foremost. The vampire story seemed shaped around that. Star-Crossed looks like it could follow a similar formula with its own story, as the budding romance between Aimee Teegarden's human teen character Emery Whitehill and Matt Lanter's alien character Roman appears to be the center of this series. From the first two episodes, it seems likely that the conflict and turmoil surrounding these two characters is set up to push them together or drive them apart, however it can to make it interesting. If that's the case, then the series' success seems reliant on those outside factors being interesting and evolving enough to sustain the story if and when viewers begin to look for more than just a love story.
Beyond the loose comparison to Twilight, Star-Crossed may succeed in luring in viewers with the promise of a blossoming romance, even for those whose interest in sci-fi is limited. On the outside, Roman looks mostly human, though he bears a few facial marks that reveal he's not of this world. As is the case for the other teen alien "Atrians," a few birthmarks do nothing to detract from their good looks. This is a CW series after all, where even the "Beasts" are pretty.
Emery and Roman first meet as children, when the Atrians first arrived and Roman took shelter in Emery's family's shed. They don't see each other again until Roman arrives at Emery's high school as one of a handful of Atrian teens being integrated as part of a new program. The hope by some is that this program, which will put Atrians in school with humans after years of living separately, will lead to further integration of the Atrians into human society. However, we soon learn that there are some people actively looking to keep that from happening. Distrust of one another has caused a divide between the Atrians and humans and this integration program is bringing that to the surface. Emery's interest in Roman, added to both of their families' involvement in Atrian-human relations puts them at the center of everything.
The first episode offers a solid introduction to the set-up for this story, and the second episode, "These Violent Delights Have Violent Ends" takes it a step further, delving into the tension between the more distrusting Atrians and humans who are wary of this integration program. It's this conflict, which is explored much more in Episode 2, that could be the key to giving viewers a reason to tune in beyond the hope that Emery and Roman will actually get together. The human-alien romance may be enough to keep viewers interested, however CW's audience should expect a bit more than that, especially when we factor in shows like Arrow, The Vampire Diaries, Supernatural and other shows that involve romance but don't entirely hinge on it. Star-Crossed's second episode is a better indication that the series is setting itself up to be more than just Romeo and Juliet with aliens. Between Emery's friends, including Julia (Malese Jow) and Lukas (Titus Makin, Jr), not to mention potential alternate love interest Grayson (Grey Damon) and Roman's fellow Atrian teens, there are other characters and other stories to explore.
Is Star-Crossed a winner? It has potential. Time's going to tell on this one, and I think it'll really depend on the direction of the story and how dependent it is on the romance. With aliens in the mix, tension and romance on the rise and one particularly interesting twist related to the aliens, there's potential for Star-Crossed to be as exciting and unpredictable as it'll likely be dramatic. At the very least, it puts Friday Night Lights' Aimee Teegarden back on the air, and the story gets off to a decent start, with a set-up that has room to grow. I doubt there's enough room for it to grow into the kind of full-on science fiction alien drama that some sci-fi fans might appreciate, but at the very least, it has the potential to be something more than your standard high school drama where some kids don't like the other kids because they're different. Where it goes from there remains to be seen, but it's worth a look for those who're in the market for a new teen drama with a little something extra.
Star-Crossed premieres Monday, February 17 at 8:00 p.m. ET on CW.
Assistant Managing Editor
Kelly joined CinemaBlend as a freelance TV news writer in 2006 and went on to serve as the site's TV Editor before moving over to other roles on the site. At present, she's an Assistant Managing Editor who spends much of her time brainstorming and editing feature content on the site.
Your Daily Blend of Entertainment News
Thank you for signing up to CinemaBlend. You will receive a verification email shortly.
There was a problem. Please refresh the page and try again.