Star Wars: Episode VII To Focus On Han, Luke And Leia's Kids?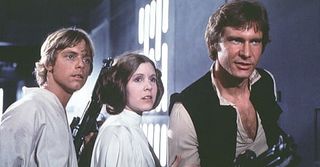 If all of the rumors we've been hearing about future Star Wars movies are true-- and there's really no evidence yet to say they will be, bear in mind-- then the pieces may well be coming together. We've heard talk of movies that happen after the conclusion of the original trilogy, and of ways to include the original main three characters, and of Harrison Ford reprising his role as Han Solo. Now a new rumor jumps off all of that and adds one more wrinkle: Han, Luke and Leia's kids.
Yes, that's something that's been very much part of the speculation, but at Showbiz 411 Roger Friedman says it's definitely happening. He claims he was told "some time ago" that Ford, Mark Hamill and Carrie Fisher would all be returning-- a rumor that's been around pretty much as long as talk of a new Star Wars has been-- and now explains that their progeny will in fact be the focus of the story:
The Star Wars has always had an affinity for stories about parents and their children, from Luke and Vader to Boba and Django Fett, so a story about the main three's children would be pretty much in line with everything that came before, though maybe a little too expected. But with the planned spinoffs potentially digging into the backstories of familiar characters, the main Star Wars Episode VII could go a safer direction and leave the risk-taking to the spinoffs. Then again, we remain in the rumor stage. Any and all of this could change. The question for you guys now is, what story do you actually want to see in Episode VII? And will Han and Leia's, and Luke and whoever he winds up with, kids be interesting enough to follow into a new trilogy?
Your Daily Blend of Entertainment News
Staff Writer at CinemaBlend