Steve Carell Isn't Guaranteed To Return For The Office Finale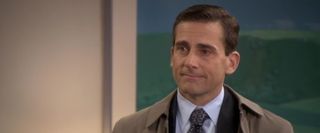 Many fans of The Office may be hopeful that Steve Carell would return to the comedy for the anticipated series finale, however from what NBC Chairman Robert Greenblatt said at the TCA, it doesn't sound like that's a sure thing. In fact, he doesn't sound especially optimistic that one last appearance by Michael Scott will happen on the NBC comedy series.
There's been no confirmation about Carell returning to The Office for the series finale as far as I know, but I doubt I'm alone in being hopeful to the point of practically anticipating one last appearance by Michael Scott as the series wrapped up. Unfortunately, TVLine reports that Robert Greenblatt told reporters "I'm hopeful, but I don't think [Steve] will be back," going on to say "He left in the way that he wanted that character to leave."
Michael Scott had a pretty great exit. His departure, which had him leaving Dunder Mifflin to move with Holly to Colorado was funny and emotional and pretty much perfect for the character. He and Holly are presumably in the "happily ever after" phase of their story, so - assuming Greenblatt's comments accurately reflect Carell's opinion on the matter - I could understand Carell wanting to avoid revisiting the role in the interest of leaving Scott's conclusion intact. But as a fan of The Office, particularly the earlier seasons, I want Michael Scott to come back! I'd probably even be content with a brief talking head video with Michael and Holly in Colorado. At this point though, while it seems like there's still a chance for that to happen, we might be setting ourselves up for disappointment by hoping for it.
The rumored date for the one-hour Office finale is May 9, but that's not set in stone just yet.