Suburgatory Review: ABC's Fun New Comedy Features A Must-Watch Cast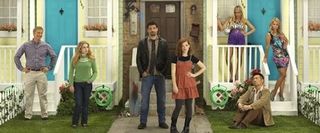 Joining ABC's Wednesday night comedy block is Suburgatory, a fish-out-of-water comedy about a father and daughter who leave the city behind and settle down in the suburbs. Between the cast and the set-up, there's definitely something worth watching here.
Created by Emily Kapnek, Suburgatory stars Jeremy Sisto (Six Feet Under, Clueless) as George, a concerned father of a teenage girl named Tessa (Jane Levy, Shameless). After finding a box of condoms in one of her dresser drawers, he packs up their life and moves himself and Tessa away from New York City and off to some nearby suburb where all of the houses are perfect and most of the people are the glossiest kind of plastic-looking suburbanites. Among them are Noah Lerner (Alan Tudyk) and Dallas Royce (Cheryl Hines). Weeds fans will also recognize Allie Grant, who plays Lisa Shay, a high school misfit who shows the most potential to be a real friend to Tessa. Rex Lee, known to Entourage fans as Lloyd (or "Lloyd!!!" if you're Ari) plays Mr. Wolfe, a high school guidance counselor.
Suburgatory celebrates an exaggerated contrast between New York and the suburbs, poking fun at the sugar-free Red Bull-drinking, superficial people who make up the neighborhood where Tessa and George live. Tessa offers a voice-over that fills us in on her thought process as she attempts to adapt to her new surroundings, which includes being taunted for her clothing by Dalia (Carly Chaikin), Dallas' daughter. At times, the voice-over is clever and adds some of the best lines to the episode, but other times it feels unnecessary as Levy's reactions to things come through in her face and body language much better than through her inner monologue.
The humor of the series borders on obvious at times, repeatedly pushing the joke that the suburbs are just a big fake plastic world by comparison to the city. With that said, there is a story to be told here, which might include George and Tessa coming to appreciate the burbs in their own way. The pilot gives us enough of a hint of the story's potential, as well as some very witty writing, which should serve the series well once the premise softens a bit and we get to know these characters better. Factor in Sisto, Tudyk, Hines, Grant, Lee and Levy as core members of the cast, and there's more than enough reason to give Suburgatory a shot.
Suburgatory premieres Wednesday, September 28th at 8:30 p.m. ET on ABC.