Suits, White Collar and Necessary Roughness Will Return in January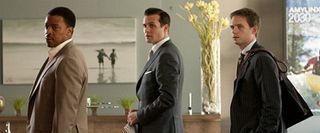 USA has set the dates for the return of three of the network's most popular dramas for January of 2013. Get out your calendar if you're a fan of Suits, Necessary Roughness or White Collar. USA will start premiering the remaining episodes of these shows in the new year starting on January 17th.
Suits will be coming back after a midseason break with six more episodes, finishing out its second season. Just a couple of weeks ago word came down the pipeline that the legal drama had been renewed for Season 3 with a 16-episode order. Suits stars Gabriel Macht and Patrick J. Adams as a brilliant lawyer and his protégé, respectively. The end of Season 2 promises new challenges for the legal team as the dust settles following a battle for control of the firm. Suits premieres Thursday, January 17th at 10 p.m. EST.
White Collar returns following a major revelation on the midseason finale – which I'll keep mum on in case you're not caught up. The series fourth season has six episodes remaining, and, like Suitsm it's already been renewed for a 16-episode fifth season. Matt Bomer, Tim DeKay and Tiffany Thiessen star in the drama about a white collar criminal-turned-informant. White Collar returns on Tuesday, January 22nd at 10 p.m. EST.
With five episodes left in the second season, Necessary Roughness, which stars Callie Thorne as the sports psychologist for the New York Hawks, a football team facing a crisis as the season unfolds, will also return. There hasn't been any word (that I know of yet) on a third season for the drama. Necessary Roughness begins airing on USA on Wednesday January 23rd at 10 p.m. EST.
Your Daily Blend of Entertainment News
Thank you for signing up to CinemaBlend. You will receive a verification email shortly.
There was a problem. Please refresh the page and try again.