Sunday Night Football Week Fifteen: Flynn Unable to Overcome Brady's Legacy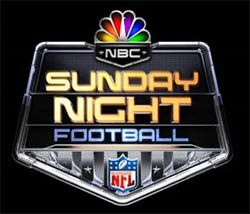 Coming into tonight's game, just about everyone expected the Patriots to rout the Packers. With Aaron Rodgers out, and looking at both team's performances last week, it isn't hard to imagine why. So while the result ended up in the direction everyone expected, the game looked much more even than most of us expected. I guess Tom Brady's ever-flowing hair isn't quite as samson-esque as we all thought; perhaps Randy Moss was on to something?
If you take a step back and think about television announcing, you may realize that much of the commentary is 100% unnecessary. For instance, does Al Michaels need to tell me that Tom Brady just dropped back to the thirty five yard line? Honestly, those numbers are practically large enough to be seen from space, so it is apparent that the announcers are there (primarily) to keep the broadcast flowing from play to play, tasked with filling up any dead air that comes their way. A great broadcaster can step above this and dominate the airwaves and cause you to tune out the sounds of the game and instead listen to the broadcaster's expert analysis.
Well, maybe good broadcasting will have to do. What Sunday Night Football lacks in flash and pizazz, it makes up for by getting the little things right. I watched a game on FOX today while on break at work, and it made me appreciate just how great the score bar on Sunday Night Football really is. The text is large, it doesn't flash around or move too much, and it does not at all inhibit the view of the play. Little things like this are what a network needs to achieve in order for success to be reached. Because in the end, we're not watching the game because it's Sunday Night Football - it's Sunday Night Football because we're watching the game.
That is not to say that I don't like the little extras provided by Sunday Night Football; on the contrary, I wish they offered more.Things like fantasy player updates, more frequent and longer lasting stat pop ups, and statistics on similar situation plays would all greatly enhance the overall experience of the game. Of course, nearly all of this is available on Sunday Night Football's online companion, which I have found to be nearly indispensable when it comes to watching a ball game on Sunday night. If you're a stats junky, there's nothing better than setting up with a computer in front of your tv to watch a game of football.
I can only assume that NBC's motive in all of this is to keep the broadcast friendly to casual football fans while still making a more intensive statistical experience available to those who desire it. So while I'd love to know what the run/pass percentage is for Tom Brady in a 3rd down with 10 yards + to go in the second half, I can see that being a little unnecessary for the group of friends that just want to make fun of Brady's hair. Don't get me wrong, I like to make fun of his hair, too; it's all about striking a balance for me.
Yeah, the cheese heads lost tonight; but Matt Flynn put forth a great effort against the mighty Tom Brady's Patriots - don't worry Matt, you'll derez him next time. Get it? Yeah? This may the beginning to a great legacy for Matt Flynn, especially if he continues with this style of play for the rest of his career. I know, I couldn't help myself. The season is down to its final two weeks, and next week we get to see the Vikings try and upset the Eagles while trying to salvage some semblance of their reputation after what was an incredibly disappointing season. Who do you have for next week's game?
Your Daily Blend of Entertainment News