Super Bowl Commercials Part 5: Budweiser's Great Times, John Stamos, And A Roaring Coca Cola Bear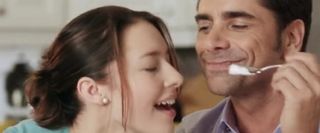 The game is on and in between segments of Super Bowl XLVI, those of us who are in it for the ads get to see the small screen debut of some great new commercials. We'll be sharing some of the best ones here for you as they're made available online. Check the latest ads out ahead!
Below are some of the new ads, and you can click here to view the previously shared ads, including Ferris Bueller's brief comeback for Honda, an appearance by Vader, and Clint Eastwood motivating us for the second half.
John Stamos takes his flirty playfulness too far in this Dannon Oikos ad...
This Coca Cola bear has reached his limit (this might be the best one yet!)...
Budweiser celebrates great times since the end of prohibition...
Classic cartoons convene for Met Life...
This dog is overworked... but Bud Light gets points for the Rescue Dog plug at the end.
More to come and more ads here!.