Supergirl Will Have Two Leads, Here's What You Need To Know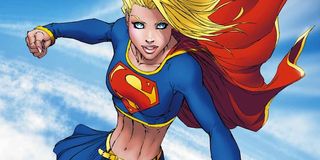 DC Comics and Warner Bros. already have TV shows on the CW, Fox and NBC this season, and soon they'll control nearly all the broadcast networks - they won't have any luck with ABC - when Supergirl airs next year. We're still a long way from her flying onto our screens, but work is already underway on CBS's adaptation of the Girl of Steel. Creator Greg Berlanti brought in his casting director for Arrow and The Flash to cast not just one lead female character, but two of them!
The main characters in Supergirl will be titular protagonist Kara Zor-El, a.k.a. Kara Danvers, and her sister Alexandra "Alex" Danvers. TV Line reports that the show is eyeing actresses between 22-26 to play the two leads. According to the article, this version of Kara was launched to Earth at age 12 when her home planet Krypton was dying. Adopted by the Danvers, she managed to keep her powers a secret until a disaster forces her to use them; but after being "energized by her heroism," she realizes the potential for good her abilities allow and chooses to use them to help her city.
As for Alex, while she was partly jealous of her sister's powers growing up, she also developed a curiosity about them, which led her to studying "alien anthropology, sociology and culture." In her current job working for a "secret government organization," she'll be helping her sister out with a variety of challenges.
Oddly enough, these descriptions don't reference Kara's cousin Superman, despite the fact that he was mentioned in the original synopsis. If he still is a part of the show, it's unlikely we'll see him too much if he's explained away as "being off-world." Kara's motivations for deciding to use her powers for good are now also curious. If Superman is around in this series, why would it take a disaster to propel her into becoming a hero? Wouldn't seeing and hearing about her cousin saving people on a daily basis be enough incentive? It could be that this Superman has the same viewpoint that Jonathan Kent did in Man of Steel and suggests she keep them secret.
Overall, it sounds like while this show will stay true to the basic mythos of Supergirl, there will also be many changes, especially with the addition of this government organization Alex is part of. They have "sinister" written all over. It's worth noting that Kara Danvers is the alter-ego Supergirl went by in the 1990s, which sounds almost exactly like Carol Danvers, a.k.a. Captain Marvel. Marvel fans can't be too happy about this, considering DC could have gone with her other identity Linda Danvers instead to avoid name confusion.
Your Daily Blend of Entertainment News
Connoisseur of Marvel, DC, Star Wars, John Wick, MonsterVerse and Doctor Who lore. He's aware he looks like Harry Potter and Clark Kent.