Supernatural Season 10 Finale Watch: Can Death Remove the Mark of Cain?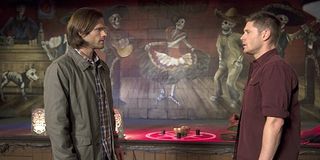 A season of small-scale storytelling on Supernatural could only end in an abandoned Mexican restaurant in Nebraska. (Dean should have checked for potholes before going inside.) Season 10 dropped the typical end-of-the-world season-long arc in favor of a dilemma that pushed Sam and Dean's brotherly bond to its breaking point. We ended last episode with Dean completely unhinged following Charlie's death. He mowed down the Stynes and beat Castiel within an inch of his life. Unlike Demon Dean, who did what we wanted with no fear of the repercussions, Mark-fueled Dean was dangerous because he had a purpose.
Sam's plan to save his brother had to work for everyone's sake. But once again, Sam's allegiance to his brother blinded him to the danger of handing an all-powerful spell book to an evil witch. Much like The Flash at times during its inaugural season, our characters were forced to make dumb decisions in order to advance the plot. Castiel going along with Sam's crazy plan was one thing, but when Crowley entered the fold, I was left shaking my head. Why would Crowley get involved with Rowena to remove the Mark? Just last episode, he told Sam he'd kill Rowena the next time he saw her. I understand that he wanted his mother to suffer by forcing her to kill Oscar. But why not kill her instead? Crowley's great pride has lead him to underestimate Rowena in the past, but this episode made his character look idiotic.
The highlight of this episode was undoubtedly the bar scene involving Sam, Dean, and Death. Jensen Ackles and Jared Padalecki were riveting as they conveyed more emotion at times with their expressions than their words. The look on Sam's face after Dean bested him in combat was of utter defeat. We as the audience may have never fully believed that Dean would kill his brother, but Sam believed it. Laying the pictures out at Dean's feet was a heartbreaking final act of love. The only time I thought Dean might actually kill his brother was when he told "Sammy" to close his eyes. The swerve with Dean choosing to kill Death was slightly telegraphed, but props to the writers for giving the scene serious tension.
The problem with that scene is that I'm not sure it was necessary. I'll take any opportunity to have Death back on Supernatural. The casting is pitch-perfect and his introduction is the second best of any character on the show (behind only Castiel). I'm simply struggling to understand why he needed to return. It seems like Dean summoned him with the pure intention of removing himself from the equation. Dean knew he was too dangerous to continue being around other people and he wanted a way out. The only problem was that Death couldn't kill Dean or risk releasing "the darkness," an evil greater than the world has ever known. This ominous darkness sounded as nebulous as the various Marvel MacGuffins – the Tesseract, Aether, and Orb – and was introduced so late in the game that it felt like a cop-out.
The answer for this lame explanation is simple: the writers are setting up Season 11. I get that; this show has always used finales to lay out threads for the following season, and that rolling cloud of black demon smoke that swallowed the Impala looked cool. Knowing that he couldn't be killed, the Mark couldn't be destroyed, and he wasn't willing to pass the Mark to someone else, Dean apparently chose to accept Death's deal and be stashed somewhere far away. Then came the strange wrinkle that Sam would have to die for Death's plan to fully work. I never understood why this was a necessary part of the process. Yes, Sam would doggedly search for his brother and that would be annoying. But you're telling me Death isn't capable of sending Dean somewhere outside his brother's reach? That undermines his power.
So rather than telling Death "no deal" and walking away, Dean called his brother to the restaurant, beat the crap out of him, seemed on the verge of actually killing Sam, and then killed Death instead. How does this make any sense? I hate to get so hung up on semantics, but this scene made so little sense that I can't reflect on the rest of the finale without trying to decipher what happened. What purpose did that whole process serve? I assume Death's… well, death will have some bad consequences in Season 11. But again, setting up that storyline doesn't do this season any favors in terms of proper closure.
Having the Mark removed just minutes later further undermined the significance of Dean's encounter with Death. He was literally packing his bags after killing the being that said he would one day reap God himself. Combine that with a pointless case to begin the episode and you realize how badly the writers murdered Dean's momentum from the last episode. We all expected a bang and got a whimper instead.
We had some interesting cliffhangers elsewhere. Crowley might be dead but probably isn't. Rowena is in the wind with the world's most powerful spell book. Sam and Dean relive the final moments of the Season 6 finale, "The Man Who Knew Too Much." Death is dead, which might mean people on Earth can no longer die. "Brother's Keeper" reminded me of the Season 7 finale in that it failed to resolve the season-long conflict in a satisfactory fashion. A hodgepodge of iconic Biblical items was all it took to undo a curse that God gave to Lucifer. This is a Supernatural trope that needs to be retired. (A bone of a righteous mortal washed in the three bloods of the fallen killed Dick Roman, if you were wondering.)
I love thrilling, well-earned cliffhangers in season finales. For all the paradoxes that birthed it, The Flash finale earned its world-eating wormhole in the sky. Supernatural botched the ending of its tenth season and sprinkled in some teases for next seasons that felt unnecessary (Death dying) or out of left field (hello darkness, my old friend). What did you think of the finale? Are you excited for Season 11?
Rating:
Line of the week
"Fantastic. I think I just killed Death." – Dean
Next season on Supernatural
Darkseid from Season 10 of Smallville takes over the world.
Your Daily Blend of Entertainment News
Thank you for signing up to CinemaBlend. You will receive a verification email shortly.
There was a problem. Please refresh the page and try again.