Supernatural Season 6 Comes Home This September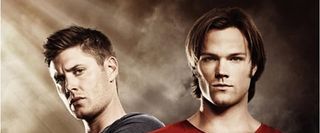 What's a pair of monster-hunting brothers to do once they've averted the actual, no-kidding Biblical Apocalypse? That was the question facing Sam and Dean Winchester as the excellent Supernatural rolled into its sixth season, and new showrunner Sera Gamble and the top-notch writing staff answered the question in style. If you've a hankering to check out the literally post-apocalyptic adventures of the Brothers Winchester, Warner Home Video will release Supernatural: The Complete Sixth Season on Blu-ray and DVD this September 13th.
The Supernatural writers had plenty of chaos to play with this season, with the end of the world shelved and both Heaven and Hell under new leadership. That conflict and confusion took center stage, with the angel Castiel (Misha Collins) trying his best to clamp down on a civil war throughout Heaven, while the demon Crowley (Mark Sheppard) has ushered in a new era for Hell (hint: I hope you don't like long lines). And, as always, Sam and Dean (Jared Padalecki and Jensen Ackles) are right in the middle of it all, dealing with new breeds of monster, a struggle over real-estate rights to Purgatory, and the troubling absence of Sam's soul. Just another average day for the Winchesters...
The state of Supernatural the series mirrored the evolving plotlines as season six kicked into gear. Show creator Eric Kripke had completed his original five-year arc, seen the Brothers to the Apocalypse and beyond, and was now leaving the show to pursue other projects. Sera Gamble was stepping up to the showrunner role, but it was unclear just what Supernatural would look like on the other side of the cosmic conflict it had built toward for five years. Thankfully, Gamble and her writers were up to the task, using those very same doubts and questions to give us a season that was all about a universe where the rule books have been tossed out. It fit perfectly with the show's themes of free will vs. destiny, and made for a different, but equally compelling, new direction for the show.
Whether you opt for the Blu-rays ($69.97) or the DVD version ($59.98), Supernatural: The Complete Sixth Season looks to continue the show's standard of including solid bonus materials. Here's what you've got to look forward to this September.
Bonus Features
"Jensen Ackles: A Director's Journey" featurette
"Supernatural and the Quest for the Soul" featurette
Audio Commentary on "Clap Your Hands if you Believe" with EPs Robert Singer, Sera Gamble, and Ben Edlund
Audio Commentary on "The French Mistake" with EPs Robert Singer, Sera Gamble and Ben Edlund.
"The French Mistake" Alternate Takes and Outtakes
Gag Reel
Easter Egg
Two bonus episodes from Supernatural: The Anime Series -- "All Hell Breaks Loose" Parts 1 & 2
A Hunter's Guide to Season 6 (Blu-ray Exclusive)
Pop-up trivia track on "The French Mistake" (Blu-ray Exclusive)
Image 1 of 2
Your Daily Blend of Entertainment News