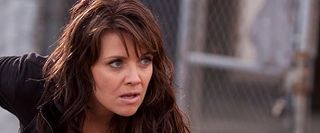 There will be no Season 5 for Syfy's Sanctuary; word came down today that the network has decided that the fourth season will be the last. The decision comes almost 6 months after Sanctuary wrapped up its last season in December, a pretty long wait for a decision on the future of the show.
The Hollywood Reporter confirmed that Syfy has decided not to continue the series for a fifth season. The series' female lead, former Stargate actress Amanda Tapping, made a twitter statement in which she thanked all of the fans of the show for their "love and support" in response to the cancellation. Tapping also served as co-executive producer on the show, a role for which she took no salary, allowing more in the budget for production. Now that's devotion to getting a project on the air.
Sanctuary started as a web series back 2007 and was picked up by Syfy after it showed some online success. Its premiere in October of 2008 was the highest rated for Syfy since Eureka in 2006. The series was groundbreaking on a technical level – being the first to be filmed entirely with a RED camera, which means filmed is a misnomer since there's no film, just a straight-to-hard drive recording. Sanctuary was also nominated for several Emmys for their visual effects.
Lower ratings for the fourth season are probably the culprit in the decision to pull the plug on Sanctuary. Fans of the show can at least look forward to the release of the season 4 DVD set on mid-July.
Your Daily Blend of Entertainment News
Thank you for signing up to CinemaBlend. You will receive a verification email shortly.
There was a problem. Please refresh the page and try again.