TNT Goes West With New Series Gateway From Band Of Brothers Writer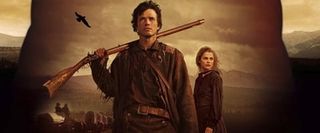 TNT has a long history with the Western genre, having been home to projects such as the Spielberg-backed miniseries Into the West (pictured above) and quite a few horse dramas starring Tom Selleck. Now Deadline reports that the network is embracing this tradition yet again with a new Western series called Gateway.
The period action/adventure series is the brainchild of Bruce C. McKenna and Danny Cannon, with McKenna having written the script and the pair of them serving as exec producers. McKenna has honed his craft on projects like Spielberg's (there's that name again) WWII miniseries Band of Brothers and The Pacific. Cannon has directed for tons of series including Nikita and the various CSI incarnations. TNT has given the show a pilot order that's contingent on casting.
Everybody knows that Hollywood loves nothing more than to jump on a concept all at once, so it's not surprising that Gateway comes along around the same time as AMC's upcoming Western series, Hell on Wheels. While that show will center around the Union Pacific Railroad, Gateway will pit three brothers against the evil cattle baron what murdered their pa. Taking a page from Deadwood, Gateway takes its name from the town where it will be set.
It's an exciting time for fans of period dramas right now, because the TV landscape is absolutely chockablock with them at the moment. Call it the Mad Men effect, but we've got two separate new series looking to mine that same era (NBC's The Playboy Club and ABC's Pan Am. The cable networks offer vicarious vacations to eras like ancient Rome (Starz's Spartacus) and Prohibition-era Atlantic City (Boardwalk Empire). Sure, not all of the newbies will survive (or will deserve to), but it's a welcome alternative to the usual spate of cop/hospital/family dramas. Go west, young man.
Your Daily Blend of Entertainment News