TV Recap: America's Best Dance Crew – Finale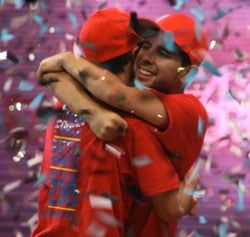 Whew! Is it just me or has this been a looooooong season? There's been some great moments (Missy Elliott Challenge) and some absolute tragedy (A.S.I.I.D. and Fanny Pak, 'nuff said), but we've finally made it to the finale.
The top two crews open the show with a battle: Super Cr3w of Las Vegas vs. SoReal Cru of Houston. The "Puttin' on the Ritz" glitzy opening is cool; there's something about the old-fashioned vibe to the track and the costumes (top hat, tails and cane) that works for me. Shane Sparks loves how the crews switch roles: Super Cr3w performing intricate choreography and SoReal Cru showing off their minimal b-boy skills. His favorite part: Brian F. and Do-Knock's mano a mano. Lil Mama remarks that the routine is proof positive both crews deserve to be here at the finale and shows how much they've grown over the course of the season. JC Chasez is also excited to see both crews here and he enjoys the playful jabs and disses both crews intersperse throughout their individual performances.
Season two's eight eliminated crews return to perform for the last time. I can't stand the phony air terminal reunions, hugging each other like long-lost homies when they know they haven't thought of each other in months. Let's just get to the region-based group performances.
EAST
Crews: Phresh Select, Sassx7, Boogie Bots
Song: "Run the Show" by Kat Deluna feat. Busta Rhymes
The performance is good, but Boogie Bots are a disappointment – they completely lose their personality and robotic style, the things that make them who they are (or should be). Sassx7, whose cheerleader moves annoyed the crap out of me earlier in the season, are actually… nah, they still irritate me. Phresh Select makes the routine look good.
SOUTH
Crews: Distorted X, SoReal Cru
Song: "Get Like Me" by David Banner
No comment here, really. I barely remember Distorted X.
MIDWEST
Crews: Xtreme Dance Force, A.S.I.I.D.
Song: "Touch the Sky" by Kanye West
Good routine with some nice hard-hitting moves from boy band look-alikes Xtreme Dance Force. And it's great to see A.S.I.I.D. back on stage, especially in those fabulous Jamaican tracksuit jackets. Speaking of which, I noticed Fanny Pak were wearing some gorgeous Union Jack-ets when they hit the stage earlier in the show repping for the U.K. And aren't Xtreme sporting German flags? Wait a minute. Oh, I get it! This is the MTV dance show version of the Olympics! Not quite.
WEST
Crews: Supreme Soul, Fanny Pak, Super Cr3w
Song: "Go Hard or Go Home" by E-40
By far, the best performance of the night! But I am so, so heated – why isn't Fanny in the top 2?!!
While we wait for the announcement of the winners, ABDC shows us the heart of our finalist dancers. They visit the Children's Hospital of Los Angeles to attend a special prom for the young patients, and additional footage depicts the crews' journeys to the top – lots of boo-hooing over struggles and a desperate desire to be number one.
So, who will win the $100,000 grand prize, trophy worth about 75 cents, and the title of America's Best Dance Crew? Will it be Super Cr3w, breakdancers constantly criticized for lack of dancing due to their b-boy style of choreography? Or will it be SoReal Cru, kicked out of their home studio and rejected by their conservative parents?
Congratulations, Super Cr3w! They will join Jabbawockeez, BreakSk8, and other crews on tour kicking off September 18 in Miami.
Next Up: Season three auditions are scheduled to start in October. To find out the locations of open casting calls or to upload a 1-minute video of your crew's moves, visit dance.mtv.com.
Your Daily Blend of Entertainment News
Thank you for signing up to CinemaBlend. You will receive a verification email shortly.
There was a problem. Please refresh the page and try again.