TV Recap: America's Best Dance Crew – Janet Jackson Challenge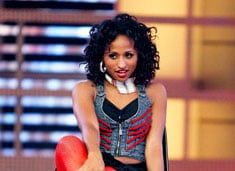 Gimme a beat! What would any dance show be without paying homage to one of the greatest dancers, choreographers, and all-around entertainers of all time? This week's episode is the first of the season to open with an all-crew dance number, choreographed by Rosero McCoy, and Napoleon and Tabitha Dumo. "Rhythm Nation" is an obvious choice. I love the military theme and Fanny Pak's Tiffani descending from the ceiling, but the routine as a whole doesn't live up to the original for me. It could've been a little tighter, and it might've been cool for the costumes and makeup to replicate the black-and-white look of the video. Hey, just my vision. Yeah, it copies Janet's vision, but so what? Don't pay me any mind, the group number was good.
Out of the six remaining crews, three are saved from elimination by viewers' votes: Fanny Pak, Supreme Soul, and Boogie Bots. Of the bottom three, SoReal Cru also escapes elimination. The two crews fighting to stay alive in this competition: Super Cr3w and A.S.I.I.D. A.S.I.I.D.??!!!!
Crew: Fanny Pak
Song: "All Nite (Don't Stop)"
The quirkiest crew kicks off the show with a routine to a song off Janet's 2004 album, Damita Jo. Fanny Pak tosses aside some of their playfulness and eccentricity to match the sexiness of the tune. Shane Sparks feels transported to the middle of an orgy. Shane, you nasty! I swear, each week he uses the slo-mo replay as an excuse to relive all the freaky parts of routines. But this week, he has plenty of reason to get a little excited. A blatant lesbian kiss, licking, groping, and we've barely begun the show. As a critique, he suggests the Fanny boys dance more like men. Lil Mama actually prefers the guys continue to dance with a little feminine twist because that's what makes them unique. JC Chasez thinks the number is the sexiest they've had on the show.
Crew: Supreme Soul
Song: "Nasty"
The song choice is a bit concerning to me for this group, but they end up crafting a really smooth routine. Lil Mama loves their confidence and is impressed by their tricks. JC clearly sees Janet's influence in their moves, but wishes they had been a bit nastier. I have to agree, and so does Shane; he isn't blown away by their performance and reminds the crew that being a part of the show's second season means they have to thoroughly impress the judges each and every week. Maybe if they'd flashed a nipple, it might have redeemed the performance. The most exciting thing about this segment of the show is that Shane and Lil Mama get into it after he shushes her and the audience so he can get his thoughts out. She isn't having it and some tension ensues. Mama likes to jump back in if she hears something she doesn't like, especially if it doesn't jibe with what she's saying. Sometimes she gets that way – maybe she needs a time-out.
Crew: Boogie Bots
Song: "Control"
During last week's show, Miguel flubbed the end of the routine and loses confidence during rehearsal. JC advises the crew to shake off any negative vibes from the past and accept this as a new week. He likes but doesn't love the routine; the crew shines during robotic moves but he thinks they lose energy in other areas. Shane points out a really cool move at the end of the routine where the crew mimics the "Evolution of Man" (loved it). Although she believes they performed better this week than last week, Lil Mama thinks Boogie Bots needs to work on personality and facial expressions.
Crew: SoReal Cru
Song: "I Get Lonely"
Concerned about the opinions of their conservative parents, SoReal Cru tries to balance provocation with artistic merit in order to do Janet justice. Lil Mama assures them that their routine was not overly sexy. I beg to differ (I'm still trying to figure out where that whipped cream came from), but ain't nothing wrong with that. JC gives the crew a much-needed reality check and reminds them that Janet's musical content is very often heavily sexual, and that their performance is merely a job. He praises them for handling themselves professionally, despite their fears. Shane dubs this the best performance of the night.
Crew: Super Cr3w
Song: "Black Cat"
This is not one of my favorite Janet songs, but I appreciate DJ Rashida's hip hop-infused master mix. It suits the crew's new "do or die" attitude and energy this week. Shane feels Super Cr3w is "back on the map 100%," due in large part to their fall from the top. He had previously thought that this challenge would be their "kryptonite,"but is thrilled to see how well they handled choreography. JC is also pleased to finally get the choreography he was looking for out of this crew. He believes Super Cr3w really took the challenge seriously, but thinks some of their lines could've been cleaner.
Crew: A.S.I.I.D.
Song: "If"
This is THE BEST Janet song choice of the night! And I love the video! Everyone knows the famous hand blade/shuffle move, and the group pulls it off lovely. The costumes, the chairs, the blindfolds, everything was reminiscent of Janet's style. However, Lil Mama is disappointed the crew didn't take it to the next level for her. She thinks the ladies were under-utilized as representatives of Janet, and the highlights weren't enough to carry the rest of the routine. Wait a minute, were we watching the same show? Mama, let's just agree to really, really disagree. JC thinks it was a wonderful performance and that the ladies did Janet proud. He also gives the crew points for difficulty – the blindfold at the top of the routine removes a second sense from deaf crewmember Joey, and he never misses a beat. I think A.S.I.I.D. is H.O.T! By far, the top routine of the night for me.
The judges surely have a difficult decision to make. I just never thought they'd make this decision.
A.S.I.I.D., your banner must fall. What a mistake to let these fabulous and extremely talented dancers go. Let's hope Fanny Pak isn't the next to leave us.
Your Daily Blend of Entertainment News