TV Recap: Friday Night Lights - Underdogs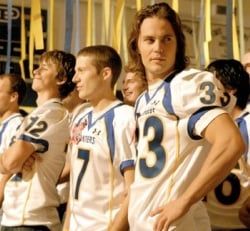 This week's episode is kind of interesting: even though a lot happened character-wise, there's not a ton of stuff to write about because, for the first time all season, football really took center stage again. It's State Championship time so we're on the buses headed not to Dallas, but to Austin, for the big game. Of course, not even that could be simple, as Landry, who has just gotten bumped up to Special Teams, misses the bus.
He finds out he missed it when Matt calls him and wakes him up on the floor of somebody's house. He spent the night before drinking his troubles away after finding out that Tyra couldn't go see him play because she had to finish fixing her horrific college essay-- apparently every paragraph ties back to Applebee's (because it's a metaphor). Uh, yikes.
He goes over to her house and convinces her to drive him to Austin in exchange for helping her with her paper. I almost expect him to do it for her, proving that neither one of them has learned anything, but they both pleasantly surprise me. Instead, they talk and he gets some genuine emotion out of her.
She says that up until two years ago, she had so much anger in her heart, that she could start a car. What got her past it, was Jason Street's accident and realizing that if such a bad thing could happen to a good guy like him, then life was unfair for everybody, and not just her. Then she became friends with Julie, and Tammy started taking an interest in her as well. Plus, she met Landry.
Later, in the hotel, Tyra is reading the essay that she wrote, and it's lovely. It's all about the hope she has for her life, and how college represents possibilities for her. At the end of it, she and Landry kiss. It's a beautiful moment that they don't make too big a deal of. After everything Tyra and Landry have been through, this is a fitting way to get them back together, and finally in a mutual way.
Lyla and Tim are also doing well, despite the fact that they're down to using coffee filters as toilet paper at the Riggins' house. This, plus the fact that Lyla has apparently gotten accepted into San Antonio State, leads her to forgive her father. He apologizes again and asks her to move back in with him, and she very casually says yes.
Buddy gets excited, thinking that her immediate response means that she and Tim aren't doing very well, but unfortunately for him, it's quite the opposite. We've all seen Tim do a complete turnaround in recent weeks and be a good boyfriend, for probably the first time in his life. Now, Lyla is planning on following him to college and getting a place with him in San Antonio. I wonder how close San Antonio is supposed to be to Dillon, and if this means we'll be seeing them next season.
Things are still going well between Matt and Julie, but now that Matt has decided he wants to be an artist, which is it just me, or did this whole thing come completely out of the blue? FNL's seasons have been so spaced out that it's difficult for me to remember specifically, but I honestly don't recall anything about Matt being an artist before his mom mentioned art school an episode or two ago.
In any case, art is apparently his big passion now, and Tammy thinks he's good enough to get into the Art Institute of Chicago. Julie is trying to be supportive, but like high school girlfriends throughout time, is worried about him going to school so far away. To her credit, however, she's not doing anything to hold him back or stop him from leaving.
His grandmother, on the other hand, is actively doing just that. When she overhears Matt and his mother talking about how they could possibly pay for school, she tells him flat-out that it's too far away and that he can't go because he needs to stay and take care of her. She even goes so far as to say that it's a dumb idea. So, that's nice.
At the game though, she talks to Julie and asks her if she knows anything about this whole art school idea. Julie tells her that it's a passion of his, and she finally concedes that she doesn't want to hold Matt back. We'll see how this actually turns out, but quite frankly, I wouldn't be too upset if we didn't see her next season.
The big story, of course, is what's going on with the McCoy's. After I wondered last week why Tammy didn't call the cops on Joe, that issue comes back up this week. The assistant principal informs her, that yes, she has a legal obligation to call Child Protective Services when she witnesses a parent beating his child in the Applebee's parking lot.
Tammy calls CPS, who makes a visit to the McCoy house. Unfortunately, like many families in abusive situations, J.D. and his mother close ranks and rally around the abuser. J.D. yells at Eric for getting involved, saying that he plays football for him and nothing more. J.D.'s mother flat-out tells Tammy that she doesn't want anything else to do with her.
The fallout continues on the field, where J.D.'s home problems, combined with his inexperience lead to a meltdown on the field. The entire team is playing like crap, leading to a half-time score of 27-0, with the Panthers on the losing end. In the locker room, Eric pulls J.D. out of the game and puts Matt back into his rightful place as QB1.
In the second half of the game, the Panthers are a new team, and quickly put some points on the board. They manage to even pull ahead 28-27 with about a minute and a half to go. It looks like Dillon is going to have their second state win in three years, but then the Titans get to kick a field goal. They make it, and while the Panthers watch helplessly from the sidelines, the game is over.
Eric tells them that he's never seen them play better football, and that this is the game people will be talking about for years. Even though they didn't ultimately win, their comeback is pretty impressive. However, that doesn't mean the bus ride back home is exactly jovial.
The last few minutes of the episode are really interesting. The coaches notice that Riggins isn't on the bus. We see him, instead, walking back onto the field with his cleats in hand. He places them on the field and leaves. I'm not sure if this is just his way of leaving his mark, or if Riggins is perhaps deciding to leave football behind, which throws his college career in jeopardy.
What do you think? Is Riggins still going to play for San Antonio State, or is he going to go work with Billy in the garage he's opening?
Your Daily Blend of Entertainment News