TV Recap: Lipstick Jungle – Chapter Seven: Carpe Threesome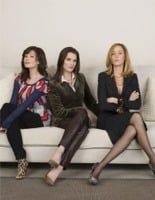 Tonight's episode opens with a steamy shower scene involving Nico and Kirby, and ends with the couple breaking up. Such is life in the lipstick jungle.
It's the beginning of the end when she gets a phone call while in bed with Kirby. It's the hospital, calling to say her husband, Charles, has suffered a heart attack. She races to the hospital and thank goodness Wendy and Victory come to her emotional rescue.
Charles survives, and Nico realizes she wants to save her marriage and thus breaks it off with Kirby. But things get ultra-awkward when one of Charles' students drops by and seems overly traumatized by his condition. Maybe Nico isn't the only one sleeping around.
Having made up with Nico, Wendy deals with a scriptwriter (Marsha Mason) who's working on a new movie for Wendy's production company. Under a tight deadline, Wendy ends up pulling an all-nighter with the writer and finishing the script.
After getting the brush-off from Victory, her new-boss-ex-boyfriend Joe tries to ply her with hazelnut truffles flown in from Geneva in the back of his limo. She won't be bought by chocolate, but does grab a few as she leaves the car and gives him yet another brush-off.
After a weird incident involving a pair of stars wanting a threesome (they "hired" her to be their stylist), Victory decides Joe isn't so bad. But is it too late? When she calls him, he's in bed with another woman. Hmmm…
In fact, "hmmm" pretty much sums up this episode for me. It just kind of laid there for me, and since it was the season finale, I was hoping for more oomph. Hmmm...
Your Daily Blend of Entertainment News
Thank you for signing up to CinemaBlend. You will receive a verification email shortly.
There was a problem. Please refresh the page and try again.