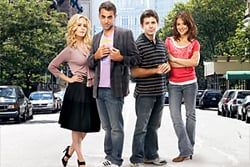 Cupid - Season 1 premiere
Starring: Bobby Cannavale, Sarah Paulson, Rick Gomez and Camille Guaty
Created By: Rob Thomas
Premieres: Tuesday, March 24 at 10:00 p.m. ET on ABC.
Despite the fact that ABC's new series Cupid isn't set to premiere until March, the network saw fit to share the pilot with us three months in advance. I'm not going to complain. I was a huge fan of Veronica Mars, so when I learned that VM creator Rob Thomas was reviving Cupid (a series that didn't make it passed fifteen episodes back in the late 90's), I was eager to see what Thomas had up his sleeve for the series' second coming.
Having not seen the original Cupid, I have no basis of comparison but based on the pilot of the new version, the series shows promise. Cupid centers on Trevor Pierce (Bobby Cannavale, Will & Grace), a man who claims to be Cupid, sent down to earth to help 100 couples find true love in order to regain his place at Mount Olympus. After getting arrested, Pierce ends up on the couch of psychiatrist and self-help author Dr. Claire McCrae (Sarah Paulson, Studio 60 on the Sunset Strip).
McCrae dedicates most of her career to helping people with their love lives, though in the case of Pierce, she has to keep tabs on him to make sure he really isn't a crazy person who thinks he's Cupid. Pierce really does think he's Cupid though and based on the pilot, I'm under the impression that we're supposed to believe that as well.
While Cupid normally has his trusted bow and arrow at his side to help make two people fall in love, the banished Pierce is left without his tools and must rely on his understanding of love and human nature in order to make true love happen. Added to that, he's in New York City, where people come to "make it," not to find true love. While Pierce's view on love is that it's all about heat, chemistry and sex, McCrae's perspective is much more jaded. She states that, "Love is what's left after the heat and the passion die.. It becomes evident in the pilot that neither have it exactly right.
What makes Cupid work, in a nutshell is Bobby Cannavale. The man brings a certain level of charm and charisma to his role as Pierce that makes it hard not to smile whenever he's on camera. Viewers will likely find it easy to want to see Pierce succeed in his mission. Paulson carries her role well as the kind but disenchanted psychiatrist but it's Cannavale's enthusiasm and charm that really stands out in the pilot.
As for the actual premise of the show, I'm on the fence. Pierce's relationship with McCrae has an almost sit-commy feel to it as their views on love and life appear to be on completely opposite sides of the fence. The pilot includes the introduction to what I'm guessing will be a running plot in the story, when McCrae informs Pierce that Cupid had a mortal wife named Pysche. This is news to Pierce, though I'm a little curious to see if the inevitable revelation of Pysche turns out to be McCrae herself… the psychiatrist.
As the dramedy airs, we can probably expect to see the overall story arc involving Pierce and McCrae's relationship play out while the episode-to-episode subplots will involve Pierce attempting to bring two people together.
As a fan of Rob Thomas, I'm more than willing to give this series a chance but I can't say with all honesty that the pilot completely sold me on the show. One of the things that always stood out to me on Veronica Mars was the wittiness of the dialogue. In that area, Cupid seems a bit watered down but there is definitely something sweet about the show that could charm viewers, especially those of us who will be missing the charming but cancelled Pushing Daisies quite a bit come next year.
Your Daily Blend of Entertainment News
Thank you for signing up to CinemaBlend. You will receive a verification email shortly.
There was a problem. Please refresh the page and try again.