Take A Virtual Tour Of HBO's Game Of Thrones Pop-Up Museum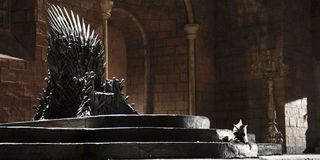 For two seasons and counting, men and women of the seven kingdoms have risked life, limb, and loved ones in hopes of doing what I did today: take their place upon the iron throne! The already iconic set piece from HBO's Game of Thrones is the centerpiece of this touring exhibition that is in New York City through April 3rd. From there, the coveted collection of props, costumes, and interactive materials will travel to Sao Paulo, then Amsterdam, and lastly Belfast, bringing the show that's beloved by fans worldwide closer to those who obsess over it.
The Game of Thrones pop-up museum in New York is at W. 57th Street between 5th and 6th Avenue. Admission is free, and hours are from 10 AM to 8 PM. The bad news is the line is long; I waited for a little over an hour. The good news is it's worth the wait, and thankfully the wait's made shorter with occasional trivia games that net players prizes. (I took home a key chain/zipper pull with the Stark insignia!)
Once inside, you're directed to displays dedicated to the Starks, Targaryens (well, Daenerys and her dragons), Lannisters, Baratheons, Greyjoys, and caches of memorable weapons (Arya's needle!), costume pieces (Gendry's bull helmet), props (Theon's abandoned letter to Rob warning of his father's impending invasion), storyboards, and fan art. There's plenty to ogle, and despite the long wait outside, I found the crowds friendly. People willingly stepped aside so others could take pictures (thanks, fellow GOT fans!). We shared our jubilation over the start of Season 3, the fun of playing the Blackwater Bay Interactive Experience archery game, and excitement over our chance to sit in the throne made of swords!
There's one more long line to take your turn on the throne, but the staff works quickly, ushering you in with the efficiency of Santa Land employees, minus the forced enthusiasm. You have your moment on the throne (you can wear a crown if you like), they snap a picture with their professional setup, then print out a gorgeous color copy for you, and allow you access to iPads so you can email yourself a digital copy. All told, I waited maybe ten minutes to get my chance at the throne. Then I promptly used it as a base of bragging rights to all my friends.
If you can make it to any of these pop-up exhibits, my advice is do it. Sure, it's a big flashy marketing ploy, but it's one that's free, fun, and gives back to the fans who have made the show such a massive success. If you can't make it to the exhibit, check out some of the many cool baubles in our gallery below.
Image 1 of 32
Your Daily Blend of Entertainment News
Staff writer at CinemaBlend.