That Time Bones Star Emily Deschanel Tried To Ship Human Remains In Real Life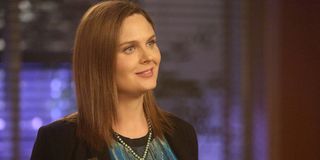 For 11 seasons, actress Emily Deschanel has played a forensic anthropologist on Fox's hit series Bones. As a scientist on the series, she gets to make a lot of dry comments about the nature of decay in the human body and the way fractures might occur, etc. However, the show apparently never taught her whether or not it's legal to ship human remains in the mail. Watch her tell this hilarious story on Jimmy Kimmel Live! about the time she tried to ship human remains with UPS.
Here's the story. Both of Emily Deschanel's grandparents passed away within a relatively short timespan. Their ashes were put together and then placed into urns for various members of the family to take. Sounds like a decent way to do it, right? Regardless, Emily Deschanel's mom decided to leave her urn with Emily, asking her to ship it in the mail later on. The Bones star knows a lot of medical terminology at this point, but she certainly doesn't know the ins and outs of shipping policies regarding human ashes.
As the story goes, Deschanel went to ship the urn and tried to hide it amongst other tchotchkes, but the woman at the shipping store caught it anyway. She held up Ms. Deschanel in the line while she talked loudly to the corporate higher-ups about whether or not shipping dead remains was legal. There were lots of people in line, too, making the experience even more mortifying. It's make for a pretty amusing picture, but it's even funnier when Emily Deschanel tells the story to Jimmy Kimmel.
As a punchline, after totally mortifying Deschanel, the woman whispered that she was a huge fan of Bones. Sometimes it's amazing to look at people's situational awareness… Then again, Emily Deschanel plays a character who doesn't always have the best people skills, so maybe the actress should be understanding of what that sort of personality is and how it manifests.
This seems like the perfect plotline that could be written into Bones, although we can't see it happening with human remains of Temperance Brennan's grandparents. I'd say there might even be a shot this real-life connection to the series could make the show as a sort of gag, but considering the series only has 12 more episodes to shoot, we may be up the creek.
Bones has been down in the ratings again this season and there was speculation that Fox might pull the plug on the long-running procedural. However, despite the rumors, Fox went ahead and made the decision to renew Bones, also noting at the time that Season 12 would be the last for the drama. Twelve episodes will be produced to air sometime during the 2016-2017 season. The good news? Since Bones returned to the schedule late for its spring run, there are still a few more episode left. You can catch them on Thursday nights at 8 p.m. ET, only on Fox. In addition, you can see what else the network has coming up with our summer TV premiere schedule.
Amazing Race & Top Chef superfan with a pinch of Disney fairy dust thrown in. If you've created a rom-com I've probably watched it.
Your Daily Blend of Entertainment News
Thank you for signing up to CinemaBlend. You will receive a verification email shortly.
There was a problem. Please refresh the page and try again.