The 12 Shows Most Likely To Be Cancelled In 2016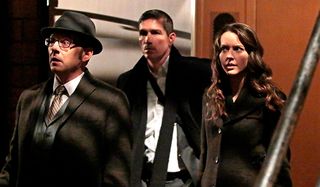 Most of this fall's TV programs have wrapped up or are wrapping up for winter hiatus over the next few days. As these shows settle in for a long winter, some, like The Blacklist and Wayward Pines, have already been given brand new seasons. Others, however, are still churning out new content until this spring, when the networks make the final decisions regarding whether or not some of our favorites will be sticking around. While the networks have cut back on actually cancelling TV programs, there are several shows that are currently dead in the water and several more that are in danger of getting cancelled if their numbers don't improve. Here are the 12 that are currently most in danger of being cancelled by the networks in 2016.
Bones, Fox
Bones has been losing viewers for some time now, and this year the network has even held off on putting Bones on the spring schedule. In addition to the low ratings and the lack of Bones this winter, David Boreanaz has also said he feels this season is the last the show will produce.
Status: Not dead but dying. I think Fox would need to pay more to have Boreanaz and Emily Deschanel come back and I think the network is not inclined to spend additional money on this series.
The Player, NBC
While The Player had a strong cast and a sharp pilot, it's ridiculous premise didn't manage to suck in a ton of viewers. After dropping the show's episode count to a paltry nine episodes, NBC actually gave The Player's timeslot to Jennifer Lopez's Shades of Blue. The Player is not going to get to play any longer.
Status: Dead, but NBC hasn't officially confirmed it yet.
Reign, The CW
Reign is stuck in a horrible Friday night slot and its numbers reflect that. Even a tender dying young king couldn't help those numbers this season, and it's probably all downhill from here. Still, Reign might just be given a shortened season next fall, as the CW is fond of giving programs the opportunity to wrap up for fans. (See Hart of Dixie, etc).
Status:Possibly going to get cancelled to make room for new content or might get a shortened final season. Either way, this one should be on its way out.
Person of Interest, CBS
After a strong start, Person of Interest made some creative decisions that led to a loss of viewership. The show has been shuffled around on the CBS schedule for the last couple of years, and this year CBS ordered fewer episodes of the series and then kept POI off of both its fall and winter schedules. Fans will likely get the new eps this summer, but we're guessing it will be the last season for the drama.
Status: Missing in action, which isn't exactly a good thing.
Blood & Oil, ABC
Blood & Oil had a tough start over at ABC, and the numbers faltered from there (last night's finale was a low note, ratings-wise). Similar to The Player, ABC reduced the show's episode order but failed to cancel the soapy drama, which starred Don Johnson. This wasn't the worst new show this season, but it certainly won't be coming back.
Status:Dead, but ABC hasn't confirmed it, yet. No one is really fooled though, as many of this week's recaps listed the finale as a "series finale."
Truth Be Told, NBC
Truth Be Told started with a dismal premise and is going to end with dismal numbers. Unfortunately, NBC can't seem to twist the knife in as deeply as the network should be doing. The freshman comedy was originally given 13 episodes, but now only 10 will be produced. Eight have already aired. Look for the series to fade away shortly.
Status:Dead, but NBC hasn't confirmed it, yet. Seriously, NBC, just put this one out of its misery.
Castle, ABC
As much as I love Rick Castle and as much as I was invested in the Castle and Beckett romance for years, much like Grey's Anatomy, the series has reached the end of its rope in terms of personal drama. Unlike Grey's Anatomy, the 18-49 demo numbers aren't supporting Castle anymore. The show has seen its worst ratings ever this season and could very well be on its way out.
Status: Let's see how strong ABC's lineup is for next season. If midseason stuff like The Catch and Agent Carter continues to do well, Castle could say sayonara this year.
Crazy Ex-Girlfriend, the CW
We love Crazy Ex-Girlfriend, but we know we are very much in the minority. The show pairs with Jane the Virgin, which also hasn't been a huge ratings winner over at the CW. However, it also fares worse than Jane the Virgin and the numbers don't look particularly sustainable over the long haul.
Status: This show had one foot in the grave until a week ago, when lead Rachel Bloom landed a Golden Globe nomination. Not sure the CW will want to cancel a critically acclaimed show.
CSI Cyber, CBS
CSI has been a staple on CBS for so long at this point that it's hard to imagine a world without the procedural. However, the latest in the series hasn't done as well in the ratings, and is stuck in the 10 p.m. timeslot on Sunday nights, which is rough for that network. I thought adding Ted Danson might help, but it looks like it hasn't.
Status: While CBS loves the older demographic, CSI: Cyber's numbers have never been great. This one will probably get cleared out to make room for new stuff next year.
Grimm, NBC
Grimm's numbers were never phenomenal and they have been getting worse over the last few seasons. However, the show is a good property for the network, and it's the one I'm most hesitant about putting on this list. Still, last week's .8 rating was really, really crappy, so there's a big chance Grimm might not make it past spring sweeps.
Status: Not dead yet. NBC really likes Grimm. Grimm has an avid fanbase. I'd give this show one more season, but not if the numbers keep falling. C'mon NBC, give this one a better lead-in.
Mysteries of Laura, NBC
The Mysteries of Laura did decently during its first season, but the show has never commandeered particularly high ratings and it's not well-liked by critics or beloved by fans. In fact, I'd argue it's the most "meh" show in NBC's lineup and that might lead to it getting cancelled. Unlike Chicago Fire, The Blacklist and NBC's other big shows, Mysteries has yet to earn an early renewal, as well.
Status:Decent overall numbers but a relatively low rating might mean that NBC gives up on this one moving forward. It's too wishy-washy at this point to say definitively.
Minority Report, Fox
I actually thought Fox had taken a step back and admitted this show was cancelled, but nope. Like several others on this list, during a normal season, this show would already have been given the axe. But despite the piss poor ratings Minority Report brought in, and despite the fact the show has ended its run, I'm not supposed to say it's cancelled. Let me just tell you: it's cancelled.
Status: Cancelled, but Fox isn't saying anything, yet.
Other shows that are having some problems: The Grinder, Hawaii Five-0, Heroes, although that's technically an event series, so you could argue that's a one-off even though it would have earned a renewal if it was doing well, Sleepy Hollow, The Good Wife, and Nashville.
This poll is no longer available.
Your Daily Blend of Entertainment News
Reality TV fan with a pinch of Disney fairy dust thrown in. Theme park junkie. If you've created a rom-com I've probably watched it.