Are Bones And Booth About To Break Up?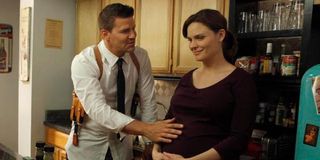 Temperance Brennan and Seeley Booth have seen a lot of ups and downs in their relationship over the years. Now in Season 10, Fox's Bones is throwing an intriguing plotline at fans, one that might see Bones and Booth separate. That's right, the dreaded s-word has been thrown out as a possibility, but even Bones actress Emily Deschanel doesn't know for certain that separation will be the (formerly) happy couple's fate.
It's weird to think that there would be anything that could tear into Bones and Booth's union. The couple has dealt with Brennan being on the run from the law, not to mention getting their home shot up by intruders. Booth even spent a stint in jail at one point. On top of this, Bones has found herself pregnant once more, and usually a pregnancy is a unifying thing in a marriage. However, there's one part of Booth's past that Temperance Brennan just can't tolerate: his former gambling habit. Apparently, that's about to come up in the story again.
Actress Emily Deschanel recently told TV Line, that a dead body leads to a poker tournament, which ends up leading to problems in her marriage. Here's how it will all come about.
Temperance Brennan is a pretty straightforward character who will say exactly what she thinks. As such, she expects other people to be bluntly honest, and when the stakes are as high a returning addiction, getting lied to would be a huge deal. But in the interview Deschanel reveals that she hasn't read the Season 10 finale episode yet, which means even she does not know exactly where her and her partner in crime solving's marriage is going.
I would say that Bones and Booth will weather this storm as they have others, but if Bones gets renewed for an 11th season, the writers might want some additional drama to keep the plot moving. For a long time, Fox's Bones has been as much about the personal lives of the characters as the actual crime-solving. And while I don't like the idea of a couple splitting while a baby is on the way, I've long since given up on trying to estimate where Bones is going. At least if Brennan does split from her husband, Max will still be around to help out.
You can catch new episodes of Fox's Bones starting this Thursday, March 26 at 8 p.m. ET. Additionally, check out other midseason premiere dates, here.
Reality TV fan with a pinch of Disney fairy dust thrown in. Theme park junkie. If you've created a rom-com I've probably watched it.
Your Daily Blend of Entertainment News
Thank you for signing up to CinemaBlend. You will receive a verification email shortly.
There was a problem. Please refresh the page and try again.