The Tonight Show Starring Jimmy Fallon Premiere: Will Smith, U2 And More Usher In New Era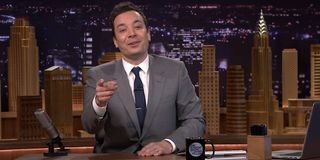 This is going to hurt and I'm sorry, but: Jay Leno, this is how you host The Tonight Show in 2014. Jimmy Fallon kicked off his tenure on the NBC late night stalwart with a bright, brassy, optimistic bang — and a Spike Lee joint to boot. Cool, contemporary, and still classic? We're more than on board for this late-night reboot.
From the guests, to the bits, to the endearing, enduring pride, the comedian has clearly taken many things into consideration when tending to his refreshing move to the big desk. "I'll be your host for now," Fallon quipped, acknowledging to tenuous road the show has taken as of late. But if the premiere outing proved anything, it's that, unless things go horribly awry, we've got a good thing going with Fallon. That means don't mess it up, NBC.
Perhaps the biggest and most obvious change was to the studio. 6B has been transformed into a stately and adult home for Fallon's 11:30 transition. The set manages to not only be cool but classic; something the host seems to have in spades. There's a beautiful two-toned theme to the coloring, with blue fabrics and golden-toned brown woods. It really does — at least visually — take you back to that golden age of late night television originally housed within 30 Rock's hallowed halls.
And from second one, Fallon was his adorably endearing, charming self. Near teary-eyed the whole opening monologue, the host was clearly overwhelmed and excited to be helming the show. His hands were even shaking a bit. But Fallon is nothing if not sincere in his reverence and respect for the show and the shoes he's filling — Steve Allen, Jack Paar, Johnny Carson, Jay Leno, Conan O'Brien, Jay Leno, he joked — that he also introduced his goals for the series in addition to house band the Roots and Steve Higgins, announcer/sidekick extraordinaire. Having fun, laughing in order to live a longer, happier life, and making fun of any and everyone he can were all on the agenda. Aww shucks.
Basically, it was Fallon at his best. That cocky goofball schoolboy swagger he's perfected has aged quite well and makes it easy to see why he's now in the position he's in — even if people bet him he'd never host The Tonight Show. Something I think most people who saw those first few weeks of his hosting Late Night with Jimmy Fallon — to say nothing of his perma-giggling stint on Saturday Night Live — sort of assumed.
In fact, you'd be in good company. Bet-losers who brought their $100 begrudgingly to the stage included Robert DeNiro, Tina Fey, Joe Namath, Rudy Giuliani, Mariah Carey , Tracy Morgan, Joan Rivers, Kim Kardashian, Seth Rogen, Lindsay Lohan, Sarah Jessica Parker, Mike Tyson, and Lady Gaga (because of course). Topping it all, of course, was fellow late-night New Yorker host-type, Comedy Central's Stephen Colbert, who dumped $100 worth of pennies down Fallon's neck before screaming, "welcome to 11:30, bitch!" It was, in a word, magnificent.
Following that, the show continued to muck with format, premiering the already-discussed (and fun) Evolution of Hip-Hop Dancing with first guest of the night, Will Smith. Almost immediately after Fallon went up to the teeny, tiny, tippity-top of 30 Rockefeller Plaza with U2 and a small crowd to watch the band perform "Invisible" high atop New York City.
Smith came back out for a segment where the dads talked about being gracious with your place in the entertainment industry, kids, and manners. Fallon even made a riffy The Smiths (the Morrissey-fronted 80s band) t-shirt featuring a black and white photo of Jada, Willow, and Jaden. My question is, of course: why do they always forget about Will's older son? You all remember him, right? From the "Just The Two of Us" video? What about the elder Smith, pre-Jada OG Smith child? Will no one think of Will Carroll "Trey" Smith III?
Afterwards, U2 came out to sit and chat on the newly upholstered couches. Unless you're drummer Larry Mullen, Jr., in which case you awkwardly and weirdly sit on the back on it, because that's cool? The band then sang a "spontaneous" and acoustic version of the Oscar-nominated song, "Ordinary Love" from Mandela: Long Walk to Freedom. And with that, the first night of Fallon's Tonight Show ended. Considering there are even bigger and more exciting guests to come, I think it's safe to say you can book that post- retirement vacation this time, Leno.
Your Daily Blend of Entertainment News