Top Chef Power Rankings: Smothered Crawfish And John Besh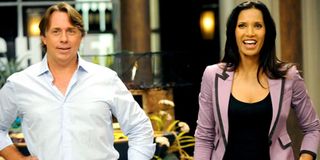 Pretty much all of the guest judges on Top Chef get at least a few nice comments and pieces of praise from the wide-eyed contestants, but very few of them routinely achieve as much adulation as John Besh. The New Orleans super chef is revered by pretty much everyone in the culinary world, and that almost universal respect was on full display when he walked into the kitchen to judge this week's quickfire.
He asked the contestants to throw together an etouffee with some fresh crawfish. Unfortunately for some of the players, the concept of smothering apparently wasn't hammered home enough, and they made dishes that weren't necessarily etoufees (Carlos, Nicholas, Carrie, Stephanie). Fortunately, the concept did translate for some chefs, specifically Nina, Brian and Shirley who were all singled out for their efforts. In the end, Shirley was declared the winner, and as per usual, she celebrated awkwardly.
For the elimination challenge, the chefs were asked to take two local fish and highlight them in a dish to serve at an outdoor gala featuring local residents, many of whom were chefs or restauranteurs. Because they were cooking for two hundred people, a bunch of the chefs decided to go with cold preparations. I think some suspected this would help them stand out, but really,it came off a bit lazy and unmotivated. Not everyone took that route, however. Stephanie and Brian made fish to order, and the judges couldn't get enough. They wound up on the top, alongside Nina whose cold preparation was so good and flavorful, they overlooked the decision. After much debate, Stephanie was awarded the victory, and she, of course, celebrated awkwardly, as well.
As for the bottom, Carlos found himself there because the peach that went along with his cold fish overwhelmed the flavors he was asked to highlight. Nicholas was there because his oysters three ways had too soft of a texture and tasted a bit awkward because of it, and Carrie was on the bottom for the first time because she decided to turn her fresh fish into a shredded ball, roll it together and fry it, which completely removed the fishy taste. Most people thought her dish tasted pretty good, but unfortunately, destroying the fresh fish on a fish challenge was just too much for the judges to accept and she went home.
The Top Chef Power Rankings are an ordered compilation of weekly lists put together by TV Blend writers Jessica Rawden and Mack Rawden. Each week after viewing the episode, they each rank the competitors in order. Nineteen points are given for a first place vote, and this week, fourteen were given for a last place vote. Thirteen competitors have already been eliminated; therefore, those people automatically occupy the bottom slots. Here is how this week's voting panned out, complete with analysis on how the contestants might fare moving forward.
The Favorites
#1) Nina Compton (38): Nina responded from her lone poor effort of the season with highs in both the quickfire and the elimination challenge, the latter of which she deserves special praise for since she made cold food. If the judges are annoyed so many people decided to go in one direction and you still get singled out for greatness, your dish must have been stunning.
#2) Shirley Chung (36): Shirley took home the quickfire challenge this week, and she was in the middle for the elimination challenge. She's definitely not as much of a favorite as Nina heading into the last few weeks, but of everyone else, she probably has the single greatest chance of making it into the finals. That's a damn good position to be in, and it's one that should boost her confidence moving forward.
#3) Carlos Gaytan (33): Carlos needs to stop pissing everyone off. I don't know if it's a language issue or a lack of formal training issue, but he's clearly drawn the ire of some of the other contestants, most specifically Nicholas. The odd thing is he doesn't seem like a mean person. He's just made a few judgment errors. For his sake, I hope he's able to find redemption in the eyes of his peers and some more praises from the judges before it's all over.
The Contenders
#4) Brian Huskey (32): Brian is arguably the most inconsistent chef on the show. Sometimes he looks like a ballsy genius willing to go out on a ledge and serve great food, even in difficult circumstances, and sometimes he looks like he has no clue what the judges actually want to eat. He's the single biggest wild card left. Could he get hot and make the finals? Yes. Could he go home for an idiotic mistake next week? Yes.
#6) Nicholas Elmi (31): What a bad week for Nicholas. After finally rounding into form over the past few episodes, the easily offended chef laid two stink bombs in the quickfire and the elimination challenges, almost going home in the latter. He needs to keep things simple. The most complex dish on Top Chef rarely wins. It's about incorporating one outside the box element and executing everything else perfectly.
#7) Stephanie Cmar (28): It's a sure sign of a crazy season when the unanimous last place in these rankings won the elimination challenge, but that's exactly where we're at. Stephanie is a wonderful chef. She's very good with flavors, and she has the brazenness to go out on a limb. Unfortunately, she also has a serious confidence problem sometimes, and people who doubt themselves don't often wind up in the finals.
Swipe to scroll horizontally
Mack:
Nina Compton (19)
Shirley Chung (18)
Carlos Gaytan (17)
Nicholas Elmi (16)
Brian Huskey (15)
Stephanie Cmar (14)
Jessica:
Nina Compton(19)
Shirley Chung (18)
Brian Huskey (17)
Carlos Gaytan (16)
Nicholas Elmi (15)
Stephanie Cmar (14)

Photo Credit @ Bravo
Your Daily Blend of Entertainment News
Reality TV fan with a pinch of Disney fairy dust thrown in. Theme park junkie. If you've created a rom-com I've probably watched it.
Your Daily Blend of Entertainment News
Thank you for signing up to CinemaBlend. You will receive a verification email shortly.
There was a problem. Please refresh the page and try again.