Top Hooker Summer Reality Show Isn't What It Sounds Like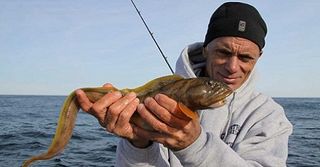 Well, this one should get a few watchdog groups worked up, at least until they take the time to find out what the show is actually about. Coming to your TV screen this summer is a reality competition series that goes by the title Top Hooker. I suspect there was a lot of snickering going on during development of this one.
With perhaps the most misleading title in TV history, Top Hooker is, in fact, nothing to get up in arms about. It's actually a series coming to Animal Planet in which teams of expert anglers compete. Yes, it's actually a show about fishing, so you can stop thinking that reality really has gone too far this time.
TV Guide says the network has ordered eight episodes of the show, with a premiere expected sometime in the summer. It's among three new reality shows coming to Animal Planet this year. The others are Money Barn, premiering in February, which features treasure hunters digging through old barns in search of valuable items, and Swamp'd, which takes place in a Louisiana bait shack and hits the network this spring.
Not long ago, we took a look at what makes for a major fail in a TV title, and we may have a new winner to take the crown. If nothing else, calling a fishing show Top Hooker is sure to get people talking and bring some attention to the series; it certainly got my attention. It takes more than an amusing title to make a show a hit, but I will give someone at Animal Planet credit for a brave marketing move on this one.
Your Daily Blend of Entertainment News
Thank you for signing up to CinemaBlend. You will receive a verification email shortly.
There was a problem. Please refresh the page and try again.