True Blood Season 5 And Newsroom Premiere Dates Set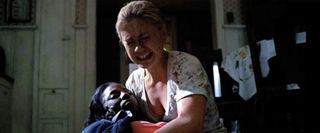 Just before the Game of Thrones Season 2 premiere Sunday night, HBO showed the trailer for Aaron Sorkin's upcoming drama, The Newsroom starring Jeff Daniels, Emily Mortimer, Sam Waterston, and many more. The trailer for the program illuminates both compelling drama and writing in a show that will follow the high stakes world of a cable news channel. Between the trailer for The Newsroom and the teaser spots for the new season of True Blood, I'm almost willing to say to hell with Game of Thrones and hope for the summer to come much more quickly. Almost.
Now, HBO has officially released dates and times for its summer lineup and it looks like True Blood will be first at bat. The fifth season of the over-the-top vampire drama – and the last to feature Alan Ball as showrunner – will air on June 10 in the 9 p.m. slot. I'm kind of glad True Blood is popping on to the schedule first, because I really need some answers on whatever in the world (or in the beyond) is going to go on with Tara's character.
Two weeks later, on June 24, The Newsroom should find a niche in the 10 p.m. slot. It will be really interesting to see how the two shows will pan out airing one right after the other. I don't expect the tone of True Blood and The Newsroom or even the two show's audiences to necessarily be similar; but there is one thing for certain: Sunday's are going to be interesting during some hot summer nights. Think either show would be down for a crossover episode? Well, it was totally worth a try.
Your Daily Blend of Entertainment News