True Blood Season 7, Episode 8: Who's All Tied Up In 'Almost Home' Trailer?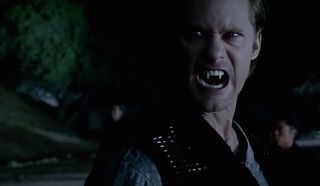 Believe it or not, there are just three episodes remaining in the final season of True Blood. There are a few characters who seem to be in mortal danger, and by the preview for "Almost Home," we can add two more to the list. Vengeance is on the horizon for one vampire who doesn't take too kindly to betrayal!
I am, of course, referring to Violet, who didn't react well to Jason's decision to rush to Jessica's aid not long after she spied them (or heard them) getting familiar. The preview indicates that she isn't content to simply break up with Jason -- it's not like he took that hard at all anyway -- as she has Adilyn AND Jessica tied up. Not good! And that's just one of the developments playing out in next Sunday night's True Blood episode, "Almost Home."
Here's the official synopsis for the episode...
It feels a little late in the game for Tara to be making yet another comeback. As shocking and frustrating as Tara's death was earlier in the season, I'm having a hard time drumming up interest in her soul being in peril. The only thing that really has me curious about this arc is Lafayette's involvement in it, as we know some strange things happen when he's around. And on the bright side, their hallucinations -- or whatever's going on with these characters when they're on V -- gives the series an opportunity to put Rutina Wesley back on screen, so that's a win.
Meanwhile, Bill's sickness seems to be on the fast-track, while Eric is also in a race against time as the Hep-V brings him closer to the true death with each passing minute. At the rate Bill's illness is going, he won't have long. But Eric is hot on Sarah Newlin Noomi's trail, and she has (or is) the cure! And then there's Sookie, who's determined to find a way to save Bill. Whether or not these characters succeed in their efforts remains to be seen. With True Blood wrapping up for good, it's entirely possible that both Bill and Eric (and anyone else for that matter) could meet their demise before the final credits roll. Too pessimistic? I'm preparing myself for the worst!
True Blood airs Sunday at 9:00 p.m. Et on HBO.