Under The Dome Might Be Bringing Back A Major Character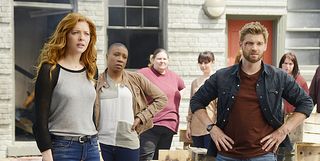 Under the Dome has proven time and again that no character is genuinely safe in this series, as numerous characters have already been killed off. But is one of them going to come back? During the Under the Dome panel at Comic-Con in San Diego today, executive producer Neal Baer dropped a pretty strong hint about the potential return of one major character -- and he names some names!
Potential spoilers ahead! - And definite spoilers if you're not caught up on Under the Dome through the first few episodes of Season 2!
Season 2 has seen a couple of major character exits in Under the Dome already, specifically beloved characters Angie and Linda. Alexander Koch took the vague approach in addressing the possibility of a character somehow returning, stating during the panel, "You never know when someone's gonna go and you never know when they come around again."
By that hint, we might have jumped to the conclusion that he's referring to a possible dome-related drop-in or hallucination, much in the way we saw Alice return last season after she died, and Dodee drop in to haunt Jim in Season 2, and that may prove to be the case. But I got the sense that they might have been referring to something bigger here, as Neal Baer added "We said goodbye to Angie and Linda" and adding that "one of them might be back."
Be back how? As a dome figment or an actual return from death? Baer didn't elaborate, but is this a hint that either Linda or Angie will somehow return as a character? It's really impossible to rule anything out on this show, so that may be what they were teasing. We'll have to wait and see.
Here are some other spoilery tidbits and fun comments revealed at the Comic-Con Under the Dome panel in Ballroom 20 today:
Someone might get out of the dome this season - "literally."
We will find out what Angie saw in the locker before she died.
We will find out who killed Angie, and Alexander Koch says it's been hinted at already. He also says revenge might be taken.
HoundsOfDiana.com is the website that follows the activity of the mysterious person in tweeting and trying to communicate with the people in the dome. Joe and Norrie's video blogs will be on that site.
Dean Norris says Stephen King's involvement is really important to the show. He kind of helps guide the show. "It couldn't be better to have him around and contributing." Norris adds that Stephen King scares the crap out of him.
Neal says the Under the Dome can keep going. "We have a lot of stories left to tell."
Neal Baer and Mike Vogel reveal that we get to come face to face with Barbie's father this year "in a new and open world." And we find out that he in fact could have been a trust fund baby." It sounds like Barbie had a privileged upbringing, which may have led to pushing him toward the military. "We find out some other familial secrets as well toward the end of this year that are going to surprise a lot of people."
More misfortune and bad stuff is going to happen to Junior. "You'll see more painful stuff headed Junor's way," Alexander Koch said, In response to a question about whether there will be justice for what he did to Angie last season.
Rachelle Lefevre, who showed up on the panel dressed as Starbuck from Battlestar Galactica, was asked to do her Twilight line, "I'm the one with the wicked curveball." She did it with a smile.
If Dean Norris had to go into an actual dome scenario, he'd take Britney Spears with him.
When asked if Joe might leave Norrie, Colin Ford says Norrie is Joe's first love and "I don't think you can ever really run away from your first love."
We also saw a couple of really intense clips, one of which had Big Jim intimidating Rebecca Pine, and another revealed an extremely suspenseful scene that had Barbie over a ledge and in grave danger. There's exciting stuff ahead as Season 2 continues to air this summer!
Assistant Managing Editor
Kelly joined CinemaBlend as a freelance TV news writer in 2006 and went on to serve as the site's TV Editor before moving over to other roles on the site. At present, she's an Assistant Managing Editor who spends much of her time brainstorming and editing feature content on the site.
Your Daily Blend of Entertainment News
Thank you for signing up to CinemaBlend. You will receive a verification email shortly.
There was a problem. Please refresh the page and try again.