Vegas Moves To Saturday This Week So CBS Can Cover Boston Bombings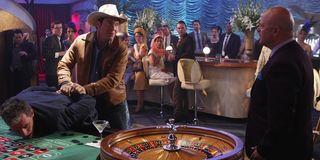 As the events in Boston continue to unfold, the networks are making further moves to provide coverage. With the manhunt still underway in Boston, CBS has decided to preempt the new episode of Vegas that was scheduled for tonight and join NBC and ABC in presenting special coverage instead.
When the horrifying bombings in Boston took place on Monday, networks went into overdrive to provide coverage. NBC preempted Revolution that night, and since then, a number of episodes of various series have been pulled due to sensitive subject matter. That included an episode of Castle that featured a bombing, and just today NBC decided to pull the next episode of its new series Hannibal from the schedule entirely.
The decision to pre-empt Vegas this evening has nothing to do with the content of the episode, but rather a decision to air special coverage of the ongoing events in Boston. With one of the suspects in the bombings confirmed dead and a second the subject of an intense manhunt, all eyes are on Boston once again today, and of course that includes media scrutiny of every moment of the search. EW says CBS will air CBS Special News Report: Boston Bombers in the 9 p.m. timeslot to cover the latest events. The preempted episode of Vegas has been rescheduled for tomorrow at 8 p.m. EST, which means, unlike the Hannibal episode which was pulled for content and won't air at all, fans will still get the new episode this week.
ABC will also be airing a special report on the Boston events at 10 p.m. in 20/20's timeslot, which NBC will do the same during Rock Center with Brian Williams' timeslot, also at 10 p.m. EST.
Your Daily Blend of Entertainment News
Thank you for signing up to CinemaBlend. You will receive a verification email shortly.
There was a problem. Please refresh the page and try again.