Video Interviews: Being Human Cast And Showrunner Discuss Season 4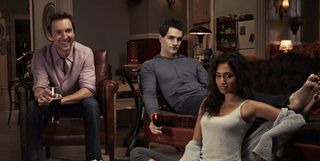 Among the many TV series featured at Comic-Con this year was Syfy's Being Human, and I had the opportunity to sit down with the cast and showrunner to talk about what's ahead for Aidan, Josh, Sally and Nora when the series returns for its fourth season. It should go without saying that there will be spoilers for those who aren't caught up through Season 3, so please keep that in mind before reading on or watching the videos. Showrunner Anna Fricke and stars Kristen Hager, Sam Huntington and Sam Witwer had some interesting things to tell us about what's going on in the show, which is expected to return in 2014. And there are some great spoilery tidbits about the new season, so if you don't want to know anything about what's ahead, turn back now!
Meagan Rath was also among the cast present, but we didn't have a chance to talk to he, unfortunately, so our Sally updates are admittedly at a minimum. But we did learn some very interesting things about Josh, Nora and Aidan. Like the fact that Josh is stuck as a werewolf almost permanently. You may have remembered Season 3 leaving off with Nora finding Josh still as a werewolf the morning after the full moon. Well, that's the start of a new mystery. The only time he's not a werewolf is during the full moon, which is decidedly inconvenient, as that just so happens to be when his new bride is in werewolf form. But it does sound like there's a small window of time when the two are both human together. Meanwhile, it sounds like Aidan's approaching a big crossroads, and given everything he went through in Season 3, between Kenny and his new human girlfriend, there's certainly plenty of plot to be explored.
Below are the video interviews, which are well worth a look, not only because Fricke, Hager, Huntington and Witwer all offer some interesting commentary on the season ahead, but because Huntington and Witwer are both so funny. We also got Sam Huntington to offer up some vague clues about his participation in the Veronica Mars movie!
Anna Fricke - Showrunner
Some highlights from the above video:
"I think you guys are in for a real treat. The working theme is destiny, and the idea that everything happens for a reason, so it's really focusing a lot on what made these characters who they are, what brought them to this place, and how no matter what they do or how they try to change the monsters that they are, they belong here for a reason, and they've been thrown in together for a reason. So it's a lot about their friendship and their curses."
The start of the season will deal with the cliffhangers from the end of Season 3 and how they're dealing with things.
Meaghan Rath is obsessed with mermaids. But it doesn't sound like we'll be seeing any of them in Being Human anytime soon.
New werewolves (recently made).
We'll see more of Kenny.
There's more romance on the horizon. "The first day of shooting was like all love scenes." Some are fantasies and some are not.
One of the big messages of the season is that they're stronger together and they need each other. "It's better to be monsters together than to fix your problems and be apart."
Expect more flashbacks. We'll see more of Aidan's origin story. They're "playing with time a lot."
Kristen Hager - Nora
Josh is stuck in werewolf form all the time except for one day a month, during the full moon. There's a half an hour of overlap (or underlap?) where they're both in human form at the same time and that's when they can spend time with one another.
"She's trying desperately to get her husband back and is willing to do whatever it takes for that the happen, but is really at a loss and has no idea how to do it."
Hager likes the dark challenging scenes. She says it's a really special role to play a human and an animal.
There will be a lot more magic and witches in the new season. Or something of that nature, anyway.
Sam Huntington - Josh
Josh and Nora cross paths "like boners in the night." They get half an hour to go after each other. It's very special and sexy.
Huntington has learned a lot about how to act from working on Being Human.
All of the characters are trying to get back to each other. And it's beautiful. If they do it…
Sam Huntington can bite down on a water bottle.
There isn't a lot of improv in the show.
And, unrelated to Being Human, Sam Huntington couldn't talk much about reprising his role as Luke Haldeman for the Veronica Mars movie, but it sounds like Luke's still "has a lot of trouble." Huntington shot multiple scenes for the film. He actually shot one Saturday morning.
Sam Witwer - Aidan
Aidan's in the aftermath of last season. He let Kenny go. He killed his girlfriend's ex-boyfriend. And there's a woman out there who looks like his wife from his living years (Colonial America, 1700's.). Aidan doesn't have a lot of plot work to do at the beginning of the season. He just gets to have scenes.
Things are set up with rapid-fire pace.
"Don't ask a ghost what she thinks of the seriousness of death. She's not going to give you the right answer."
The vampire plague survivors need to organize. Aidan doesn't want to get involved, but he has lots of opinions on how they're organizing.
We'll see more of the crime family from Season 1. "And speaking of crime families and old stuff, we are definitely going to see certain characters that no audience member is going to be able to predict may surface." He says he'll be delighted to work with certain actors again.
Aidan has always teetered over to the dark side. Witwer says that's going to be settled in a big way this season. He talks about Aidan being asked why he doesn't just "end it" if he's so miserable being a vampire. "We get to answer that definitively this year in a big way," Witwer says. The idea will be introduced through Mark Pelligrino. Bishop's always embraced being a vampire, but there's a pretty big weakness. This season, we discover what's at the heart of it.
Assistant Managing Editor
Kelly joined CinemaBlend as a freelance TV news writer in 2006 and went on to serve as the site's TV Editor before moving over to other roles on the site. At present, she's an Assistant Managing Editor who spends much of her time brainstorming and editing feature content on the site.
Your Daily Blend of Entertainment News
Thank you for signing up to CinemaBlend. You will receive a verification email shortly.
There was a problem. Please refresh the page and try again.