The Walking Dead's Plan To Reveal Glenn's Fate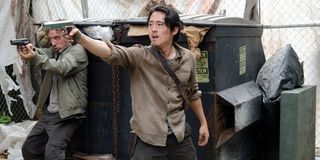 There are spoilers in this article, obviously, if you aren't caught up on The Walking Dead. Everyone still here? Alright, let's go.
It has been two weeks since the fateful moment when Nicholas and Glenn were stuck together on a dumpster and the former decided to end his life, pulling Glenn into a glut of zombies in the process. In the time since, we've obsessed over clues related to whether or not the fan-favorite character could possibly have survived, but The Walking Dead hasn't returned to the storyline at all. Recently, however, TWD actor Ross Marquand revealed a bit about The Walking Dead's big plan to reveal Glenn's fate. Namely, it's coming soon:
It's actually pretty incredible that more news from The Walking Dead doesn't leak, as filming for the hit AMC series happens well before the series ever hits the cable schedule. This also means that the actors know a good bit about what is to come, which is why Marquand's comments to ComicBook.com should be credible. And it's good to know that we won't be having to wait to get answers until The Walking Dead comes back for its second half this winter.
The actor also told the outlet that Aaron and Maggie are both "optimists" despite the fact that they live in a world filled with zombies and are constantly dealing with threats. So, it seems they are with the #TeamGlennLives fans.
Thus, just like the audience, the two characters are dealing with all of the emotions and uncertainty related to what happened to Glenn. It's pretty fitting, actually, for the characters to be in the same shoes as the audience. In a lot of ways, the whole plot reminds me of when Carol's daughter, Sophia, went missing way back at the beginning of Season 2. Obviously, that story didn't have a happy ending, but this one still could... maybe.
Granted, The Walking Good has done a lot of information revealing ever since Glenn died/hid under a dumpster/used Nick's entrails to escape the zombies/turned into a zombie himself/whatever else could have happened. This week, we learned that Maggie is pregnant, and she had revealed that information to Glenn shortly before he suffered whatever fate the Walking Dead had in store for him. It was good to get that plot point out into the open, but it still doesn't answer the questions we have related to what happened to good 'ol Glenn.
Tune in to find out when The Walking Dead airs next Sunday at 9 p.m. ET, only on AMC.
Amazing Race & Top Chef superfan with a pinch of Disney fairy dust thrown in. Theme park junkie. If you've created a rom-com I've probably watched it.
Your Daily Blend of Entertainment News
Thank you for signing up to CinemaBlend. You will receive a verification email shortly.
There was a problem. Please refresh the page and try again.