Was Jeremy Renner's Boob Joke To J Lo Funny Or Over The Line?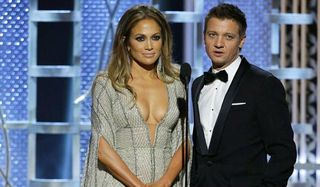 While presenting the award for the Best Actor in a television miniseries or movie, Jennifer Lopez and Jeremy Renner had quite the colorful exchange. In short, Renner made an off-handed remark about Lopez's cleavage, and it shocked everyone from J Lo to the audience to the Internet. Watch his ridiculous comment below:
The two had a quick debate over who should open the envelope to announce the winner. And then, it seemed to go off script as you can see in cjzero's Vine, when Lopez insisted that she open the envelope by adding, "I've got the nails." The singer and actress wore one of her signature low-cut, exposing dresses. It's her style, and something that yes gets her noticed, but when she put it on, she likely wasn't expecting to have to hear Renner utter "You've got the globes, too."
Lopez looked a bit put out, but played it well, and the two left the stage quickly as Billy Bob Thornton came to accept his award. Lopez made a quick comment to Billy Bob Thornton telling him to, "say thank you", which we're sure he didn't need reminding, but if we're being honest, she was probably thrown by just having her boobs commented on in front of the room.
In response, some corners of the Internet erupted with comments of Renner's remark, and it's easy to see why. We live in 2015, now. There are two hilarious women up on stage hosting the Golden Globes. There's Maggie Gyllenhaal accepting an award for Best Actress In A TV Movie Or Mini-Series and giving an incredible speech about female empowerment. And then you have Jeremy Renner, reducing Jennifer Lopez to what she was wearing. It just seemed out of place at an awards show filled with so many smart, talented women.
Lopez is a performer, in the musical and now acting sense. Many think she deserves better than what happened to her, especially in front of the likes of Meryl Streep and Oprah Winfrey and other powerful and respectable women. Then again, there are others who think the comment was nothing more than harmless fun. It may not have had much tact, but some think it was totally inbounds, given how far that neckline plunged.
What do you think? Let us know your thoughts by voting in the poll below…
This poll is no longer available.
Your Daily Blend of Entertainment News