Watch Adam Sandler Tell A Hilarious Story About When Michael Keaton Hosted SNL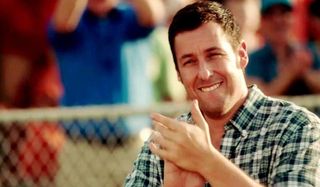 Saturday Night Live has revealed a lot of behind-the-scenes stories over the years, and this week on Conan, Adam Sandler had a great story to share about the late night series and Michael Keaton's stint as a host. Incredibly, the amusing story even features a Batman reference. Even better, it's totally safe for work. Check out the Keaton story, around the 47-second mark, below.
If you don't have time to watch the whole video, the story is pretty simple. Adam Sandler's always been a pretty decent storyteller, and this time around he's painting a picture about the time Michael Keaton hosted Saturday Night Live. Apparently, Sandler and a lot of the cast members and writing staff used to take the SNL host out to dinner each week. So, during Keaton's big hosting stint, roughly 25 people took Keaton out, and at the end of the meal the actor grabbed the check to pay. All the SNL employees protested but Keaton simply looked at them, put on his superhero voice and quietly said, "I'm Batman."
I mean, how can you argue with Batman/Birdman? This would have been the early nineties, when Keaton was just coming off of the success of Batman Returns and was really identified with his Batman roles (well, he still is now). Saturday Night Live lore is full of tales like the Keaton story, and in the video, Sandler also tells a funny tale about his early attitude on SNL. Additionally, he reminisces with Conan about Chris Farley.
Sandler should have plenty of Saturday Night Live stories he can pull out of his back pocket every now and again. (With his appearance in the SNL 40 digital short, now is a great time for SNL stories.) In terms of his SNL history, Adam Sandler signed on to the late night show back in 1990 as a writer and later became a featured player and main cast member. During his time on the series, he produced great skits, including but not limited to "The Hannukah Song" and "Gap Girls."
While Sandler was eventually fired from the series in 1995, the successful actor clearly still has some fond memories from his time on the New York-based show, and we're glad he's willing to share them. You can check out other great late night stories when TBS' Conan airs on weeknights at 11 p.m. ET.
Reality TV fan with a pinch of Disney fairy dust thrown in. Theme park junkie. If you've created a rom-com I've probably watched it.
Your Daily Blend of Entertainment News
Thank you for signing up to CinemaBlend. You will receive a verification email shortly.
There was a problem. Please refresh the page and try again.